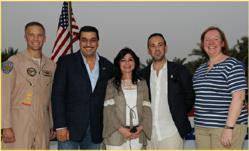 It is an honor to be a part of the AUSA's 4th of July Celebration and show our support for the troops
Vienna, VA (PRWEB) July 29, 2011
ANHAM Al Kuwait for Food Products (http://www.anham.com) was the major sponsor of the Association of The United States Army (AUSA)- supported 4th of July Celebration at the US Embassy in Kuwait. The celebration provided a day of fun, relaxation and a sense of home for the over 200 troops that were among the 450 total guests.
"It is an honor to be a part of the AUSA's 4th of July Celebration and show our support for the troops," said Mr. A.H. Farouki, CEO and Chairman of ANHAM.
The event included a cake cutting, barbeque, games, camel rides, music and more. As the events' major sponsor, ANHAM provided meats and other foods, outdoor fans, paper products, drinks, gifts and fruits for the attendees. ANHAM employees in attendance included: Fadi Nahas (Program Manager), Lamia Hijazi (General Manager), and Simon Khayat (Operations Director).
"Celebrating independence and providing them with a day of fun is the least we can do," said Ms. Lamia Hijazi. She added, "ANHAM understands the importance of providing such events for the troops and is proud to participate in bridging many different cultures together."
About ANHAM FZCO
ANHAM FZCO (http://www.anham.com) is a leading contracting firm working throughout the Middle East and North Africa ("MENA"), Central Asia, and Europe. With a century's worth of experience between its principal founding companies, ANHAM is able to efficiently, effectively, and affordably deliver products and services throughout the world. Headquartered in Dubai, UAE, ANHAM has international offices that specialize in providing local support and services to its initiatives, projects, and investments across diverse regions of the globe.
###