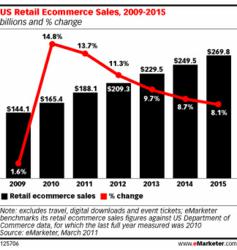 We are also being approached by companies that want to partner with us
Austin, TX (PRWEB) July 29, 2011
Retail ecommerce revenues in the US hit $165 billion in 2010. According to Forrester, a market research company, ecommerce now makes up 8% of total retail sales. And this percentage is expected to grow to $269 billion by 2015, according to eMarketer, another market research firm.
The main reasons sited for this growth are - increased web connectivity, increasing familiarity among consumers with online shopping, great shopping experiences offered by ecommerce websites, and new promotional approaches such as flash sales.
One of the many companies cashing in on this ecommerce boom is the Austin, Texas based startup Ordoro. Ordoro offers an ecommerce platform targeted towards small and medium sized ecommerce retailers to help them efficiently manage their supply chain. Ordoro's web-based order management module is used by merchants to keep track of their ecommerce orders, to print shipping labels, manage dropshipping and manage suppliers.
"We have been seeing a strong sign up rate ever since we released the 1.0 version of our software in January 2011", says Ordoro co-founder and CEO, Jagath Narayan. "We are also being approached by companies that want to partner with us. We have formed a few key partnerships with webstore companies like BigCommerce and Shopsite. And we plan to bring in more partners before the end of Q3", said Mr. Narayan.
As ecommerce continues to grow, expect more innovation in the space particularly targeting the small and medium sized merchants. While companies like Groupon are fueling the revenue growth for these merchants, companies like Ordoro are focused on extracting higher value by improving efficiencies.
###