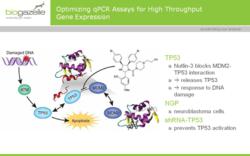 We especially like the precise and accurate plate- filling system that Innovadyne offers us.
(PRWEB) July 31, 2011
Featured presenters are Dr. Mary Cornett, Idex Health & Science's Applications Manager for Innovadyne Precision Dispensing Systems, and Dr. Jan Hellemans, co-founder with Dr. Jo Vandesompele of Biogazelle, a real-time PCR analysis company providing a complete solution for qPCR. Jan is a founder of the RDML consortium, which promotes the RDML real-time PCR data exchange format. He is also the co-author on the MIQE guidelines.
These experts will discuss their laboratory's approach to qPCR assay development, optimization and validation. This includes state-of-the-art liquid handling technologies, critical system performance and reliability requirements, rapid non-contact dispensing methodology for optimized workflows, and BioGazelle's approach to solving their assay optimization challenges.
Watch this webinar now—along with other videos and archived Fluidic webinars—by visiting our website. All Idex Health & Science webinar's are available after the initial broadcast.
Idex Health & Science LLC designs, develops, and manufactures liquid subassemblies and precision components for a wide range of applications requiring precise control and measurement. We specialize in component integration that results in innovative and optimized OEM fluidic systems. IDEX Health & Science is the synthesis of leading component and technology suppliers to the Analytical Instrument, In Vitro Diagnostics, Biotechnology, and Laboratory markets. Our brands include Eastern Plastics, Innovadyne, Ismatec, Isolation Technologies, Rheodyne, Sapphire Engineering, Systec, and Upchurch Scientific. For more information, visit http://www.idex-hs.com
###