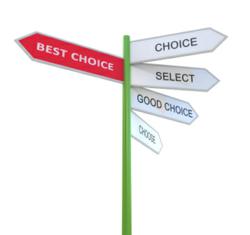 Today, it's critical to realize that your clients do have options and you have more competitors...
Portsmouth, NH (PRWEB) July 29, 2011
Millions of small business owners are struggling with disappointing sales numbers using the same marketing strategies that happily earned them staggering profits during the hay days of the boom economy just a few years ago.
Market expert and founder of Managed Marketing, Charles Gaudet, says that most small businesses are stuck because the marketing rules have changed and small business owners must adapt to become a formidable competitor in this marketplace.
"Let's face it, consumers have more options today than any other point in history. Back in the day, if you wanted to buy something, you'd talk to a friend, check the Yellow Pages or look for an ad in the newspaper and make a selection based on a limited group of competitors, but things have changed," Gaudet states, "and even those businesses that had early internet presence had fewer competitors than they do now."
"And, because there was so little competition, you could send somebody right to a sales pitch and reasonably expect to receive sales, but entrepreneurs all over the world have noticed that approach is no longer working," says Gaudet
"Today, it's critical to realize that your clients do have options and you have more competitors. So how do you compete?" asks Gaudet.
Gaudet elaborates that there are numerous ways to become the dominant leader in your marketplace, but the top three actions that most business owners can institute are:
1. EDUCATE YOUR MARKET: Make it easy for your prospect to try your product or service before they buy. Show your prospect that you are the most likely candidate to solve their problem. Offer them a free report, free sample, test-drive, webinar, or an introductory education seminar at no charge to help them take the first step towards solving their problem.
2. LEAD YOUR MARKET: People are looking to be led, directed and guided down the path that will offer them the greatest benefit, greatest value, highest profit, most savings, or biggest advantage. Become known in the market place as the business that will most likely offer these solutions and begin to become their trusted-advisor before they make their purchase.
Provide guidance and advice so that they purchase the solution that best meets their needs and continue to follow-up with additional products or services that will give your clients and customers the greatest advantage. We live in a world of social media and open communication, the more you help people get what they want, the more they talk and the better you'll do.
3. TAKE THE RISK AWAY: If your product or service is as good as you say it is, let your customer buy your product with a guarantee that if it doesn't perform as promised, you'll either make it right or refund their money. Don't be afraid to be liberal with your guarantees. The better the guarantee, the better the sales. The increase in sales will over compensate for the refunds on any risk-free offer.
Managed Marketing's best clients have used these strategies and others to increase their company profits by as much as thirty percent or more in as little as five days. If you'd like your business to be considered for a Managed Marketing consultancy, please visit http://www.ManagedMarketing.com/services/ to learn more about how Managed Marketing can grow your business.
ABOUT CHARLES GAUDET: Gaudet has been called the "World's Most Inspiring Small Business Expert" for consistently delivering windfalls of profits to his clients by unveiling opportunities that have been previously under-utilized or have gone unnoticed. Gaudet started his first business before the age of 5 and has been ferociously committed to the study of successful business practices ever since. He is the founder of Managed Marketing, LLC and and can also be found on Facebook at http://www.Facebook.com/ManagedMarketingLLC or Twitter at: http://www.twitter.com/CharlesGaudet
ABOUT MANAGED MARKETING: Managed Marketing, LLC is a leading marketing consulting firm with percentage-of-profit fees. The company specializes in finding two or more overlooked marketing opportunities commonly found in most small-to-medium sized businesses and customizing actionable marketing strategies to increase a company's profits by 30% or more in as little as five days. You can read more about Managed Marketing at http://www.ManagedMarketing.com.
###