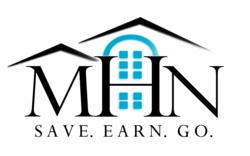 Columbia, MD (PRWEB) July 29, 2011
It's no secret that customer loyalty programs have exploded in the past few years. According to the 2011 COLLOQUY Loyalty Census* Americans accumulate approximately $48 billion in various rewards points and miles annually. The travel and hospitality sector is the second-largest industry in terms of rewards at $17 billion a year. Yet few travelers compare programs before booking, which may lead to choosing a rewards program that doesn't meet their needs.
MHNSAVES.COM, a new online travel savings club, compared the rewards programs offered by some of the industry's key online travel sites to help consumers choose wisely.
MHNSAVES.COM
*Savings of 5-30 percent each time members use it.
*Book any of the hotels in the MHNSAVES.COM network and earn a minimum of 5 percent in MHNSAVES Cash Back Reward Points. Some hotels offer discounts of up to 30 percent for instant savings plus an additional 1 percent in Cash Back Reward Points.
*One point equals $1, and members receive their cash rewards simply by requesting a check, which is mailed directly to them with no restrictions.
*The minimum number of points required for redemption is five.
*The points do not expire as long as the membership is current and members may use any credit card for payment.
*Membership is free.
Expedia.com®
*Awards one point for every dollar spent on any credit card, with limited time special offers for additional points for using specific cards, such as MasterCard®.
*Booking packages earns multiple points, which vary depending on the number of items booked.
*Points expire after 18 months if there is no activity or redemption on the member's Expedia.com account, and the points are restricted to redemption only on Expedia products.
*3,500 points is the minimum required for redemption, which earns a $25 hotel savings coupon.
Orbitz.com®
*Only offers rewards for using the Orbitz Visa® Card issued through Capital One®.
*Cardholders earn 3% rewards on all purchases at Orbitz.com and 1% rewards for all other purchases, with additional rewards points as special periodic incentives.
*The points do not expire and 100 points equal $1 of travel spending (a $200 hotel room would require redeeming 20,000 points).
*Points may be redeemed on Orbitz.com or for merchandise and gift cards as determined by the program.
Hotels.com®
*Does not award points, but simply awards one free night for every ten booked through the site.
*Consumers can use any credit card to book, and after booking ten nights earn one reward night at a value equivalent to the average cost of those last ten nights' stays.
*The reward night must be earned and redeemed within three years, and the reward night must be claimed by booking through Hotels.com.
Which program makes the most sense depends on each person's priorities. For cash back with no restrictions, MHNSAVES.COM offers the simplest and easiest program; for travelers booking a complete vacation package Expedia.com may earn the most points. By knowing the reward program options, consumers can choose the one that gives them the most value for their needs. Rewards program details can change at any time, so consumers are always advised to confirm the rewards offered before enrolling.
For more information, including a comparison chart on these programs, visit http://www.MHNSAVES.COM.
About Members Hotel Network (MHNSAVES.COM)
Members Hotel Network (MHNSAVES.COM) is an online travel savings club that offers its members exclusive discounts and cash back rewards points on hotel stays across the United States. MHNSAVES.com members receive: savings of 5-30 percent off participating hotels' lowest advertised rate; the ability to combine MHNSAVES.COM discounts with other national discount programs, including AAA® or AARP® membership, government or military discounts, at participating hotels; cash back reward points earned on every night's stay at any hotel booked through MHNSAVES.COM; and the ability to still earn points on other hotel and credit card loyalty programs on every stay booked through MHNSAVES.COM. Headquartered in Columbia, MD., MHNSAVES.COM was founded by a team of hoteliers to offer hotels and consumers a more affordable alternative to other online travel agencies. To learn more or to become a member, please visit http://www.MHNSAVES.COM.
*Additional details: http://www.colloquy.com/press_release_view.asp?xd=95
# # #