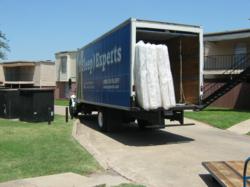 Having a bed of their very own will help to create a sense of home, comfort and stability that these children have often lacked throughout their lives
Dallas, TX (PRWEB) July 29, 2011
Fort Worth mattress retailer Sleep Experts and Metro Dallas Homeless Alliance (MDHA) have joined forces to share the gift of a good night's sleep with families as they transition from homelessness to lives of independence.
Sleep Experts is donating 50 beds for permanent supportive housing provided by MDHA in partnership with the Dallas Housing Authority and other organizations. The first delivery of 30 twin mattress sets was made on July 15 at the Mayan Palms Apartments in East Dallas, where Family Gateway is working to provide fully furnished and appointed homes for 50 families in the next few months, as well as another 100 families in apartments across the city.
"Sleep Experts' gift of mattresses and box springs will provide more than just a place to sleep for formerly homeless children and their families," said Robert Alberts, executive director of Family Gateway. "Having a bed of their very own will help to create a sense of home, comfort and stability that these children have often lacked throughout their lives."
Metro Dallas Homeless Alliance president and CEO Michael Faenza added: "As these families move into permanent housing and are able to get a good night's sleep, they can recover from the stress of homelessness and focus on improving their lives."
About Metro Dallas Homeless Alliance
Best known as operators of The Bridge, Dallas' Homeless Assistance Campus, MDHA also runs the Housing Policy and Services Center, with emphasis on development of the permanent supportive housing considered key to solving homelessness. A 501(c)3 member organization, MDHA is composed of a broad spectrum of stakeholders that meet routinely to collaborate on issues to fight homelessness. The Dallas City Council resolved that MDHA is the "regional authority on homelessness," providing leadership to develop programs and secure funding to assure quality, effective services for persons experiencing homelessness. For more information visit http://www.mdhadallas.org.
About Sleep Experts
Sleep Experts, a mattress retailer with 34 North Texas locations, offers a broad selection of innerspring mattresses, foam mattresses and air mattresses, with brands including Tempur-Pedic, ComforPedic, Simmons, Beautyrest, Laura Ashley, Sleep Designs, Dr. Breus, and Comfortaire. The company's mission is to exceed customers' expectations, and it backs this pledge with a One Year Love Your Mattress Guarantee™. Recent accolades include the Dallas Business Ethics Award, four consecutive Consumers' Choice Awards®, and top workplace awards from both Dallas Business Journal and The Dallas Morning News. Sleep Experts shares the gift of sleep with families in need by donating customers' old mattresses to D-FW non-profit organizations. For more information visit http://www.sleepexperts.com or call (888) 55-SLEEP.
Editor's note: Photos of July 15 bed delivery are available upon request.
###