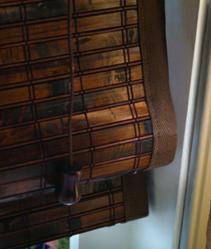 Castle Rock, Colorado (PRWEB) July 30, 2011
Shades, Shutters, Blinds has just released a line of custom made woven wood blinds. These blinds are made in Florida and are part of their environmentally friendly collection of bamboo blinds.
Each set of blinds is custom made to fit the windows needs of each of their unique clients. These custom made blinds take approximately seven days to create. Manufactured in Florida, they proudly bear the made in America seal. According to one satisfied client, "The workmanship is excellent, the material is even better than I thought it would be, the color is gorgeous, and the hardware is especially nice and easy to install. The best part is that my husband likes them, too. Thank you so much for producing such beautiful, woven wood blinds. Thank you so very much."
In addition to looking amazing, these blinds are also good for the environment. Besides their edging and backing, bamboo blinds are made entirely from bamboo. Bamboo is an great renewable resource and a wonderful alternative to many other kinds of wood. It grows quickly so it can be replaced as quickly as it is used. It also grows easily without pesticides so consumers do not have to worry about those pollutants being added to the environment. Earth Talk, part of The Environmental Magazine, condones the use of bamboo as an environmental alternative to other woods. They say, "Bamboo's environmental benefits arise largely out of its ability to grow and spread quickly... without the need for fertilizers, pesticides or much water."
These woven wood blinds are available in fifty different shades of bamboo ranging from the brilliance of zigzag white to the deep tones of the color Jakarta. They also go well with plantation shutters. Shades, Shutters, and Blinds will send a free sample of any one of their fifty colors to any clients who request it. This free sample allows their clients to see which color will best match their decor.
###