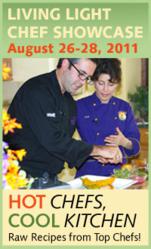 I'm excited to share my recipes at the Living Light Chef Showcase."
—Judita Wignall, actress, musician, and author of "Going Raw"
Mendocino Coast, CA (PRWEB) July 30, 2011
Living Light Culinary Institute, a gourmet raw vegan school in northern California, announces the Living Light Chef Showcase: Hot Chefs, Cool Kitchen, August 26-28, 2011. Twelve gourmet raw food chefs, including Cristina Archila, winner of the Hot Raw Chef 5 in 5 Video Recipe Contest, will demonstrate a total of 24 gourmet raw vegan recipes for three full days in Fort Bragg, California. The showcase will feature a diverse group of chefs from as far away as Iceland. Filmed with state of the art camera close-ups in a professional teaching classroom, the step-by-step demos will highlight specialized techniques for learning to create gourmet raw vegan dishes like Red Bell Pepper Chipotle Soup with Cashew Sour Cream and Corn Bread, Triple Berry Shortcake with Black Pepper Tarragon Syrup and Whipped Cream, and Jalapeno Boats with Queso Amarillo on Red Cabbage Slaw with Creamy Ranch Dressing.
Attendees will be treated to a gourmet dessert reception featuring raw vegan desserts like California Mudslide Pie, Tiramisu, White Chocolate Raspberry Cheesecake, and Key Lime Pie. A gala raw vegan dinner at The Ravens Restaurant at Stanford Inn by the Sea offers an opportunity to mingle with the chefs. Classes before and after the event include Walk on the Wild Side, Discover Raw Green Superfoods from the Ocean, Food Styling for Photography, with author of The Food Stylist's Handbook, Denise Vivaldo, and Sharpen Up Your Knife Skills, taught by Living Light faculty, including master raw food chef, Cherie Soria.
The chef lineup includes Nomi Shannon, author of The Raw Gourmet, Judita Wignall, aka Judy Nails of video game Guitar Hero fame, who is a rock musician and author of a new recipe book, Going Raw, and Living Light founder and director Cherie Soria, author of The Raw Food Revolution Diet.
"I could never have done all I have so quickly without the expert training I received at the school. The world of raw food has completely opened up for me, and I'm excited to share my recipes at the Living Light Chef Showcase."
—Judita Wignall, actress, musician, and author of "Going Raw"
Raw food chef and restaurateur Solla Eiriksdotter will make the trip from Iceland for the event. Other featured chefs include Colleen Cackowski, an award-winning raw chocolatier, and Brian James Lucas aka Chef BeLive, whose e-Book Orgasm of the Taste Buds was included in this year's 2011 exclusive secret room Academy Awards® gift bags in Hollywood, California. Other participating chefs include Culinary Institute of America graduate Alicia Ojeda from Austin, Texas, animal advocate Tina Jo Stephens from Baja,California, and several chefs who teach at Living Light Culinary Institute, including Martine Lussier, culinary programs manager, Amy Bacheller, who teaches classes on the culinary uses of essential oils, and dessert specialist Vinnette Thompson, another CIA graduate. Cherie Soria founded Living Light Culinary Institute in 1998, and has seen the school grow from a small "traveling school", teaching workshops at spas and retreat centers, to its current international status, serving students from more than 50 countries around the world.
The Living Light Chef Showcase: Hot Chefs, Cool Kitchen will share the expertise of twelve professional raw food chefs, including Cristina Archila, the winner of the Hot Raw Chef 5 in 5 Video Recipe Contest, August 26-28.
Living Light International has four eco-friendly businesses on the Mendocino coast of Northern California: Living Light Culinary Institute, Living Light Café, Living Light Marketplace, and Living Light Inn. The Living Light Chef Showcase takes place every fourth weekend in August.
###