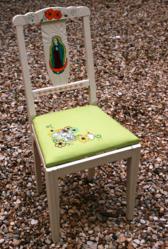 As funding to our schools gets cut, art programs are the first to go. Having access to art and creative activities is essential, though, to happy and healthy kids.
Austin, Tx (PRWEB) July 30, 2011
Local interior designer Alexis Lane, of Lane Design Studio, LLC has donated a one of a kind designer chair to a benefit hosted by the Wimberley charity group Arts from the Heart, to promote after-school art programs for local kids.
"Having access to art and creative activities is essential for growing healthy, happy kids" Ms. Lane stated. "As funding is cut from our schools, art and music programs are often the first to go." Ms. Lane was very involved in the arts growing up and believes that without her involvement in art classes and school clubs, she probably never would have discovered her passion for interior design.
The benefit being hosted by Arts from the Heart is their 1st Annual Community Casino Night, August 20th at the Wimberley Community Center. The event will feature a silent auction where Lane's hand painted and embroidered Dia de Los Muertos chair will be auctioned off along with other chairs decorated by local artists. There will be a live DJ, casino tables, dancing, and dinner.
Tickets are $50 at the door and include dinner and $200 in chips. The event starts at 7pm and will last until midnight.
###