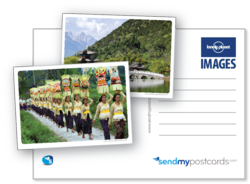 With this partnership, we are delighted to be making our images readily available to postcard lovers all around the world.
Callum McLennan – Lonely Planet Images
(PRWEB UK) 29 July 2011
The sendmypostcards.com service enables a user to quickly create and edit a personalised postcard using their computer and then sendmypostcards.com prints and sends the postcard on their behalf.
Images can be added from the global image gallery, facebook, flickr or their own camera/phone/computer to create a memorable postcard.
An estimated 135 million plus postcards are sent and received per year in UK&I - summer holidays are a peak period.
Lonely Planet Images is a digital image library with a unique and comprehensive collection of over 300,000 downloadable travel photographs taken by some of the best travel photographers in the business. The selected image collection for sendmypostcards.com captures the diversity of the world's countries: from the major tourist attractions to everyday scenes, from popular destinations to little known places off the beaten track.
Why use sendmypostcards.com?
Have you ever been on holidays and intended to send postcard home, but found it a hassle finding some stamps, the right card and postbox?
Cards can be personalised with your chosen LPI image (or alternatively upload your own), a selection of handwriting and unique messages for front of card.
The service costs €1.79 for the printing and postage of a single postcard yielding a consumer saving versus the high street. Cards can be created quickly and easily while on the go.
Form your own opinion by availing of a free trial here:
http://www.sendmypostcards.com
Click "sign up" on top right of homepage, enter an email and password for free credit
Celebrate our launch on facebook by clicking "like" and entering our competition for a dream holiday
http://www.facebook.com/sendmypostcards
About sendmypostcards.com
Key target audience: Launched in early July 2011 to aid UK & Ireland travelling consumers
Quality: Product focus on postcard excellence, 330g high quality product with glossy image front and high print quality. Our print partners, Kilmartins are an established print company with approximately 145 years experience.
Convenience: The user does not have to find a shop or stamp or post box. Sendmypostcards.com does all the work, speedy delivery service through franking arrangement with An Post. We are a one-stop-shop for consumers' postcards needs.
Global range and high image quality: achieved through partnershipswith Lonely Planet images.
Personalisation: people can design their own card: chose image, message on front and back with selected font type. The user's tailor made postcard is printed and posted for less than the price of sending a generic high street one with stamps.
The team is currently developing an easy to use version of the site for smart phones to be released later in the year.
About Lonely Planet
Lonely Planet is the leading global travel information company. It is renowned for its first-hand approach, up-to-date maps and commitment to providing the best information for travellers. Lonely Planet covers the must-see spots, but also encourages travellers to get off the beaten track and understand more of the nature, culture and environment in each destination. Lonely Planet currently has more than 360 writers, researchers and photographers and produces around 500 trustworthy and inspiring books, innovative downloadable digital guides, an award-winning website, wireless applications and cutting-edge television programmes. Lonely Planet was founded after Tony and Maureen Wheeler left London and hit the road in search of adventure in 1972. They travelled overland across Asia and landed in Australia where, due to incessant questions from would-be travellers, they compiled their journey notes and stapled together their first travel guide, Across Asia on the Cheap. Lonelyplanet.com
Quote from key contact
"With this partnership, we are delighted to be making our images readily available to postcard lovers all around the world."
Callum McLennan – Lonely Planet Images
The company (source of the news)
sendmypostcards Ltd, Registered September 2010
Key Contact: Caroline Mac Aodha, Director
Address: IDA Industrial Estate, Clonshaugh, Dublin 17, Ireland
Tel: 00353 87 674 7214
Email: team(at)sendmypostcards(dot)com
###