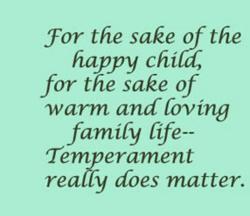 Oprah Winfrey should put Parenting by Temperament on her "Must Read" list for every parent. --Marcia Lasswell, Professor Emeritus in Psychology, Past President of the American, Association of Marriage and Family Therapy
Claremont CA (PRWEB) July 31, 2011
On our main website, parents may take temperament Sorters (questionnaires) for themselves and for their children that are fully automated, reporting scores and analysis immediately. These completely free of charge. The Sorters were all established through years of University research and are reliable measures, similar in concept to the well known temperament and type measures of Keirsey and of the MBTI.
Here they may also learn about our essential book in this program, ParentingbyTemperament: The New Revised Raising Cuddlebugs and Bravehearts which is available at Amazon.com. Finally, the new site is full of photos of both children and adults, caught in actions typical of the temperaments. These pictures are fun to look at, and they also help to bring these concepts into sharper focus.
In the new ParentingbyTemperament Forum parents are encouraged to discuss both problems and triumphs in using temperament in parenting. The first author of the textbook will join in from time to time in these discussions.
Finally, the blog, TemperamentMatters.com is an opportunity to look at the role of temperament in the larger, longstanding struggle between arguments for nature and for nurture in human development.
Children come into the world with all sorts of temperament preferences. It takes a few years to see this in their behavior, but it is there. Some are outgoing and exuberant, others are quiet and thoughtful. Some are orderly and seem almost to be born that way; others have chaos following them everywhere. Some are dreamy, others are practical. Some are cool and logical, others are empathetic and emotional. Adding to both the complexity and the fun, parents have all these personal preferences too.
And everything goes better from discipline to loving closeness, when you each know as much as you can about child temperament and parent temperament. Together the websites, and the accompanying book, work hand in hand to give parents a world of support.
Find out more at ParentingbyTemperament, TemperamentMatters, and the Parentingbytemperament Forum
###