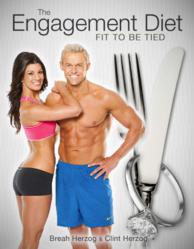 The truth is that it's not just about having a good body. It's about building a great marriage."
(PRWEB) July 29, 2011
Texas Fitness Couple, Breah and Clint Herzog, designed the program specifically for engaged couples seeking to slim down before their wedding day. The book, The Engagement Diet is a 12-week guide for engaged couples to get fit together before they get married. Unlike most diets, this book is a unique his-and-her guide to inspire couples to accomplish something important before they get married.
Breah Herzog, a model and former Dallas Cowboys Cheerleader, has dedicated her life to helping women achieve the life they deserve. Breah said, "Top-of-mind for all brides is to look great in our wedding dress. The truth is that it's not just about having a good body. It's about building a great marriage."
Working together with husband Clint, a successful Dallas entrepreneur, the couple decided to take their award-winning fitness advice to couples around the globe.
Clint added, "My initial motivation to develop the program was vanity. I wanted to look and feel good. I had no idea the positive impact it would have on our relationship. We are closer than we have ever been because we committed to this together."
There are an estimated 2.5 million couples engaged to be married each year in the United States. The book, scheduled for national release this summer, will be the primary source for couples who want a wedding diet to ensure they look great before they wed.
The Engagement Diet will be officially launched at the Dallas Bridal Show being held from July 30th to July 31st at Dallas Market Hall. Breah and Clint will be featured speakers at this event. The Engagement Diet team will also host a special book signing in the exhibit hall.
"We wanted to launch the book at the Dallas Bridal Show since this is our home town and it's where we first became a couple." Breah noted.
Engaged couples can preorder the book and be eligible to win a free autographed copy by visiting The Engagement Diet website.
About The Engagement Diet:
The Engagement Diet is a powerful his-and-her guide that teaches couples to build a solid relationship to food & fitness, as they focus on starting a lifelong relationship with each other. In 12 weeks, award-winning fitness couple Breah and Clint Herzog, show couples how to get fit together, eat healthy in spite of the stress of every day life, and to celebrate successes along the way. Engaged couples will be inspired to accomplish something together before they get married, ultimately building a foundation for their future.
About Breah Herzog:
Breah Herzog began her professional career as a model and a Dallas Cowboys cheerleader. Her passion for encouraging others led her to six USO tours where she performed with countless celebrities, including Wayne Newton, Kid Rock and Jessica Simpson. After winning 1st place in the Muscle Mania Fitness Competition in 2009, Breah realized she could inspire newly engaged couples by sharing powerful tips on fitness and healthy food choices. Working as a team with husband Clint, the powerful fitness couple authored The Engagement Diet, designed to motivate couples to achieve greater success in their relationship to food, fitness and each other. The Engagement Diet is her first in a series of books dedicated to personal transformation.
About Clint Herzog:
Dr. Clint Herzog graduated at the top of his class from of Texas A&M University in 1996, and received his Doctorate in Dentistry from the University of Texas Health and Science Center in San Antonio in 2000. His desire to transform the dental industry led him to create the concept of FLOSS, giving his customers a new experience in dentistry. In less than a decade, he's built his dental practice into one of the largest national practices and became a top amateur bodybuilder and fitness model in his spare time. With a strong passion for serving others, Clint was drawn to motivational speaking and coaching. The Engagement Diet is his first in a series of books dedicated to personal transformation.
###