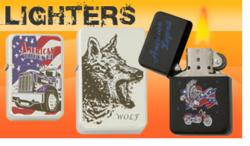 These lighters can be sold very easy at any retail outlet.
Salem, OR (PRWEB) July 30, 2011
CTS Wholesale Sunglasses is excited to announce the introduction of a new line of wholesale cigarette lighters. The new line of metal oil lighters are refillable, windproof and affordable, making them a great product for any reseller.
CTS Wholesale, LLC is a direct importer of sunglasses and sunglass accessories. Their new line of affordable oil lighters start as low as $12.00 per dozen, which is great news for resellers looking to make a profit on a unique item. "These lighters are a great addition to any retail location," says Kirk Bachelder, founder of CTS Wholesale Sunglasses.
Effective display cases that showcase these distinctive cigarette lighters are also available for a variety of retail locations, such as gas stations, convenience stores, magazine shops, and even for fairs and festivals. With the purchase of each dozen of wholesale oil lighters a convenient and attractive display box will be included. In order to enhance the presentation of the oil lighters two additional styles of locking display cases, designed as counter top displays, are also available for purchase.
On bulk orders of wholesale lighters exceeding $500, there are a number of discounts available, ranging from 10% for orders over $500, 15% for orders over $1000 and 20% for orders over $2000.
"Our most valuable asset is our customers, so with that in mind they can be assured that the CTS Wholesale Sunglasses staff has first hand knowledge of not only our products, but also the variety of retail locations in which they are sold," explains Kirk Bachelder.
CTS Wholesale Sunglasses has been manufacturing high quality eyewear, making their products available in retail locations around the country, both through resellers and their own outlets for over 20 years.
"Our goal is to ensure that our customers receive the highest quality eyewear and the best products available on the market today."
###