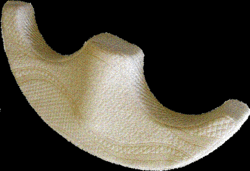 Women love this pillow and give it much more credit for their recovery and well-being than we could have imagined.
Agoura Hills, CA (PRWEB) July 31, 2011
Comfort Quest, Inc. announced the results from a recent customer satisfaction survey which awarded a rating of 90% satisfaction. Customers were asked to rate the women's surgery recovery pillow on a scale of one through 10 with 10 being best.
"We are not surprised by the results of the survey," said Ben Kass President of Comfort Quest. "We were confident after talking or emailing most of our customers through our start-up period. We knew people were thrilled with the amount of comfort and support the Side Sleeper Pillow gave them but we are still very happy with a 90% rating."
The Side Sleeper Pillow was designed specifically for surgical recovery or breast pain relief. Most women experience breast pain after several types of chest surgery. The breast pillow will help patients after surgeries such as Augmentation, Cancer, Open Heart, Mastectomy, or Lumpectomy. The Side Sleeper Pillow is essentially a breast support pillow.
The survey was a check point for the first-year company to test the effectiveness of the CQ Side Sleeper Pillow. The first pillow shipped in early May of 2011 and orders have increased on a weekly basis. The original pillow was thought to have been a "one size fits all" but several doctors in the companies network suggested a model specific to women with narrow cleavage. The recovery pillow now has separate models for wide and narrow cleavage.
"We knew we had a product which would help women in their recovery from surgery," Kass said. "But we really did not expect it to be nearly as heart-warming as story as we have heard. Women love this pillow and give it much more credit for their recovery and well-being than we could have imagined."
"I have been on my back since February," said one cancer patient. "It is horrible! I can't get comfortable on my back and if I move the pain is too much. I desperately needed something that would help me rest comfortably.
"For the first time in months, I can sleep on my side again," she beamed. "The second pillow with the narrow center fits perfectly in my cleavage and is very comfortable. For the first time in a long time I am sleeping on my side and getting a good night's sleep. The pillow has made a huge difference in the quality of my sleep and in my life. I never thought this pillow could give me such an emotional lift. This might be a small thing to some people, but it's huge for me."
The breast support pillow has a web and retail price of $59.97. Comfort Quest already has a network of plastic surgeons in the United States and Canada which will supply their patients with the breast pillows or direct them to Comfort Quest's web site at http://www.mycomfortquest.com.
Comfort Quest, Inc is a southern California based corporation located in Agoura Hills. The company intends to continue to develop post surgery products for women. The Side Sleeper Pillow is the company's first product in this category.
For additional information:
Ben Kass, (818) 665-2012, ben(at)mycomfortquest(dot)com
President
mycomfortquest.com
Copyright© 2011 Comfort Quest, Inc.
# # #