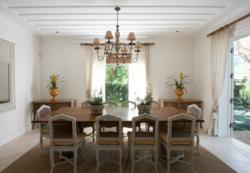 "In spite of the 2008 economic downturn, the company has been proven right to expand to Europe and is enjoying a fantastic moment abroad.." - says Jarbas Alves, CEO and founder of Oficina Inglesa
(PRWEB) July 31, 2011
Now operating in London through a showroom located at the Business Design Centre since 2008, Oficina Inglesa brings to the country not just its timeless furniture collection but its specialized customer service where clients are offered a comprehensive, full bespoke service.
"In spite of the 2008 economic downturn, the company has been proven right to expand to Europe and is enjoying a fantastic moment abroad, where we are not just content with merely guaranteeing customer satisfaction; but seeking to provide a particular lifestyle - a refined art de vivre," says Jarbas Alves, CEO and founder of Oficina Inglesa.
With a vast portfolio of clients in countries such as Russia, Singapore, UEA, United States and Greece, the company has grown accustomed to dealing with and understanding the international clientele, "thus the need to open a more central showroom in London where our clients can more easily reach us," explains Eduardo, son of Mr. Alves, and who together with Marcos Menezes have been managing the company in the UK.
"French Furniture has never been so well accepted in London, I think what is lacking from all the other companies who have failed to bond with Britain is having innovative ideas, understanding the market and having a young mind-set behind the scene working to provide the customers with what they really want," reflects Marcos.
Interior Designers who are registered at Oficina Inglesa's website have at their disposal to download for free a vast library of AutoCAD files which can be used for presentations. Please visit http://www.oficinainglesa.com for more information.
To commemorate its anniversary, the company is preparing a stunning new collection for August, when some exquisite pieces will be presented to the public in London in a private event where just a lucky few will be able to have a first glimpse at the new collection.
"We will be presenting a new concept in French style furniture," adds Marcos, "from our start in London we have managed to understand better what the local customers want, and this collection is based around our clients specific needs and requirements," he finishes.
In addition to their extensive French Style Furniture catalogue, Oficina Inglesa offer a full Bespoke French Furniture service. Clients are then welcomed to customise their products to any size, colour and material preference or needs. To ensure that the purchase experience with Oficina Inglesa is as enjoyable as it should be, clients are encouraged to take full advantage of the vast material library that includes solid woods, veneers, fabrics, leathers and stunning decorative ironwork. In the hands of their talented craftsman and under the supervision of highly-skilled designers, whether you require your French Furniture in solid Oak, Cherry wood, Mahogany or any other wood, Oficina Inglesa have both the expertise and the resources to adapt products to individual requirements.
For further information, please visit the website at http://www.oficinainglesa.com
###