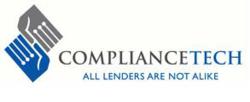 ComplianceTech and their team bring a tremendous amount of fair lending expertise that greatly compliments QuestSoft's product line and customer support goals.
Arlington, VA (PRWEB) July 31, 2011
ComplianceTech announced today an agreement with QuestSoft, a top provider of mortgage compliance software for lenders, to market, distribute and sell the flagship HMDA analysis software product, LendingPatterns™.
LendingPatterns™ will be offered as one of the many products offered by QuestSoft. "In addition to their top notched sales team, we selected QuestSoft to distribute our flagship product because of their significant lender market share and their unique coverage with small to medium size institutions; a fast growing segment with regard to needing fair lending compliance management tools," said Mike Taliefero, Managing Director, ComplianceTech.
LendingPatterns™, used by federal enforcement agencies and some the largest financial institutions in America, is also the only tool on the market capable of querying through millions of loan applications made since 2004 and retrieving answers about racial/ethnic/gender lending activities in 2-3 minutes or less. Other unparalleled features of LendingPatterns™ include:
•Ability to do multi-year online HMDA analysis from any place on the planet with an Internet connection.
•A 20 page Introductory Fair Lending Analysis report that gives a fair lending overview relative to a lenders agency peers in the same geographic location.
•The ability to analyze low/moderate income lending and view lending activity by CRA assessment areas.
•Pricing Analysis: The ability to analyze disparities in the magnitude or incidence of subprime lending by race, geography and income (raw data does not have incidence)
•Benchmark comparisons: Ability to quickly see whether an institution stands out in the crowd, positively or negatively.
•Geographic drilldown: The ability to do both national, metro, county, CRA assessment area and census tract level reports.
•Geographic Information Systems: The ability to generate detailed and informative maps in minutes that output to popular web-based mapping programs with thematic layers based on tract income, tract percent minority, vacancy and estimated foreclosure rates.
•Data management capabilities: The ability to merge the loan application registers of different companies to see how the combined entities could perform or impact communities.
•Create custom peer groups: The ability to search for lenders by using a profile of lender characteristics rather than by name.
•Uncover hidden relationships: The ability to identify the reporting affiliates of parent company lenders.
"ComplianceTech and their team bring a tremendous amount of fair lending expertise that greatly compliments QuestSoft's product line and customer support goals," said Leonard Ryan, President of QuestSoft. "The company's management also shares a deep conviction in educating and helping lenders discover the positive financial advantages of understanding the demographics they serve."
For more information about LendingPatterns™ visit LendingPatterns.com or contact Dana Ginsburg at danaginsburg@compliancetech.com.
About ComplianceTech
ComplianceTech, based in Arlington, VA provides specialized lending intelligence services and innovative software solutions to lending institutions, community organizations and government agencies. The company's software products include LendingPatterns™, Shamus®: The Fair Lending Risk Manager, Fair Lending Magic™, the Racestimator™, The Premium Pricing Analyzer, and LMI and Minority Zip Code Opportunity Maps™.
About QuestSoft
Laguna Hills, Calif.-based QuestSoft is an established provider of comprehensive and automated compliance software and services to the mortgage, banking and credit union industries. The company's products enable more than 1,500 banks, credit unions and mortgage companies to simplify the collection, analysis, compilation and reporting of key lending regulatory report data. For more information about QuestSoft and its products, visit the company's Web site at http://www.questsoft.com.
###