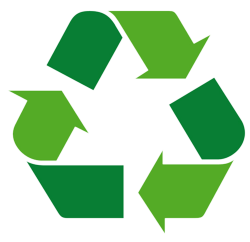 These bags aren't just for taking out the trash, but for keeping the garbage in.
(PRWEB) July 29, 2011
Plastic products may be one of the easiest things to reuse and recycle, but plastic is ironically one of the least-recycled materials in the US. According to the Environmental Protection Agency, only about 6.8 percent of the total amount of plastic generated in 2008 was actually recycled. This number ranks significantly lower than other materials such as metal, paper, and glass.
Landfills are growing larger each day, and the non-bidegradable plastic is a major cause. The plastic bags that end up in landfills take up valuable landfill space. It is estimated that 8 billion plastic bags per year enter the waste stream in the US alone. Eventually the landfills will leak and can cause immense environmental damage. A large part of this problem can be solved if manufacturers would make their products with recycled matter.
PlasticPlace takes an active part in recycling plastic material by producing a line of environment-friendly garbage bags.
"We've been educated about the importance of recycling", says Michael, CEO of Plastic Place, "And we feel responsible to ensure that our customers are supplied with environmentally friendly products. By offering products made with recycled material, we've already made a difference to the world."
Made with 80% recycled content, these bags aren't just for taking out the trash, but for keeping the garbage in. These New 3-ply COEX Supertuff bags combine lightness with strength, and the leak-proof bottoms are a definite plus.
Not just durable, PlasticPlace garbage bags are also cleaner. The bags come with Microban® anti-microbial protection to fight germs, odors, mold, and mildew. Designed never to wear off, this built-in anti-microbial guard guarantees a cleaner and fresher bag for longer.
Michael adds that PlasticPlace is redefining their mission to promote environmental awareness, not only within their company, but within their customers' lives as well. "If clients see that we care, they will be concerned, too. With the combined efforts of manufacturers and retailers, along with the public consumers, we can pave the way to a cleaner and healthier environment".
Order now from PlasticPlace.net and enjoy more effective and green ways to cleanliness. With free shipping for purchases over $50 and same-day shipping for orders placed before 2PM EST, PlasticPlace caters to all plastic bag needs.
###