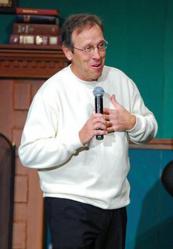 Jeff Allen has the best relationship humor out there!
Nashville, TN (PRWEB) July 29, 2011
Comedian Jeff Allen Invites You to Celebrate Your Marriage at the Grand Hotel on Mackinac Island. Join Jeff Allen October 9-10, 2011 or October 10-11, 2011 for the Celebrate Your Marriage Conference with Jay and Laura Laffoon at the Grand Hotel.
Celebrate Your Marriage is unlike any other marriage conference. Practical, witty, and fun, conference sessions explore the different needs of men and women. Using true stories, interviews, research, and years of experience, the Laffoons equip couples with the tools they need to nurture one another and their relationship. Combining humor, music, and lots of honesty, the Laffoons' "Celebrate Your Marriage" is designed for married couples or for couples contemplating marriage.
TV personality, Dave Ramsey, says, "Jeff Allen has the best relationship humor out there!" With broad appeal to cross-generational audiences, Jeff's comedy captures the humor in everyday family life and family relationships. Jeff has performed on every cable comedy network, including Comedy Central, Showtime and HBO. He has starred in projects with Castle Rock Television, First Look Studios and Warner Brothers. He has performed at for General Mills, Sams Club, Presidential Inaugurals, Congressional galas, and for US troops on aircraft carriers and battle ships in the Middle East. "Jeff obliterates the lines between corporate comedians, inspirational speakers, and just plain hilarious!"
The Grable Group is pleased to serve as the exclusive agent for Comedian Jeff Allen. With over two decades of experience in the comedy industry, Tim Grable has been privileged to work with companies like Intuit, Eli Lilly, Pfizer, Toshiba, Deloitte, Time Warner, Alcatel-Lucent , Disney, and Mercedes Benz. Other clients include Taylor Mason, Bob Stromberg and Daren Streblow.
# # #