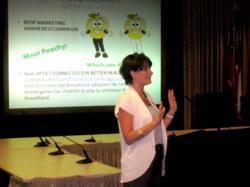 "We are so excited & honored to be partnering with Georgia Partnership for Telehealth on this far reaching initiative that will deliver better health outcomes to rural Georgians who need better access to medical care," said Kathy Whitmire
Georgia (PRWEB) July 29, 2011
HomeTown Health & Georgia Partnership for Telehealth (GPT) hosted a dynamic meeting of eight Georgia businesses who are all partnering to implement the TeleConnect GA for Better Health(TCGBH) Program. TCGBH is a collaborative effort through the use of telemedicine and broadband adoption to improve the declining health of rural Georgians. GPT received a grant to create training and outreach program for residents and healthcare providers to improve health and healthcare delivery in the state's 91 designated "counties of persistent poverty." TeleConnect Georgia for Better Health (TCGBH) is made possible by the Broadband Technology Opportunities Program and is funded by the American Recovery and Reinvestment Act of 2009. Leveraging the strengths of state government agencies, the private sector, and educational and nonprofit organizations, the project proposes targeted outreach to economically vulnerable populations including school children, low-income residents, senior citizens, and at-risk youth to address poor health and lack of high quality health care.
HomeTown Health, a network of 55 rural hospitals in Georgia, has been an integral partner with Georgia Partnership for Telehealth in the execution of this grant, as well as the integration of all partners' roles, and also evaluating each partner's goals and objectives for the BTOP grant.
"We are so excited & honored to be partnering with Georgia Partnership for Telehealth on this far reaching initiative that will deliver better health outcomes to rural Georgians who need better access to medical care," said Kathy Whitmire, managing director for HomeTown Health, LLC.
On July 21, 2011, HomeTown Health & GPT invited each of the eight partners involved in the BTOP grant to Georgia Public Web offices in Atlanta for an important team building meeting designed to create comprehensive understanding of each of the partners' roles within the BTOP grant overall. Partners were apprised of the new developments, new targets to achieve within the specified goals & objectives in the BTOP grant , as well as the upcoming Marketing Awareness Campaign where the mascot, Peachy, will be visiting schools to share information, fun activities and free giveaways so children can learn how broadband is used to help them stay healthy.
As the overall objective of the TeleConnect Georgia program began to unfold, all of the partners were able to understand each of their contributions to the greater BTOP grant goal of increased broadband adoption throughout Georgia. The eight strategic partners currently involved with the BTOP grant are:

Georgia Partnership for Telehealth
HomeTown Health, LLC
Morehouse School of Medicine/GA-HITREC
Georgia Department of Community Health
Georgia Association of Community Service Boards
Strategic Health Partners
Georgia Association of Primary Care
Georgia Trauma Care Network Commission
Sherrie Williams, Program Director for the Berrien County Collaborative's School-Based Health Clinic(SBHC), "The MED", in Nashville, Georgia closed the program by sharing how telehealth has afforded underserved school children the opportunity to receive access to primary care and medication through grant funding. Berrien County SBHC is only the third of its kind in Georgia and the first to use telemedicine. Williams is a strong advocate for utilizing telehealth in Georgia school systems.
As well as their significant role within the BTOP grant as a matching partner, HomeTown Health is also providing the online education hosted by http://www.hthu.net that includes webinars, online courses, and free online training available at http://www.teleconnectga.com/ designed for Georgia healthcare providers who need to understand, implement, & propel the electronic health record and broadband adoption into the impoverished counties of Georgia.
HomeTown Health, LLC is an organization of rural and small hospitals, located throughout the state of Georgia, who collectively pursue ways to help these hospitals survive in this environment of tremendous budget cuts from the state and federal level. What began as a handful of community hospitals eleven years ago, has now grown into an organization of 55 hospital members and over 50 business partners.
Visit http://www.hometownhealthonline.com or http://www.teleconnectga.com/
For more information contact:
Kathy Whitmire,
Managing Director, HomeTown Health
kfw(at)windstream(dot)net
706-491-3493
###