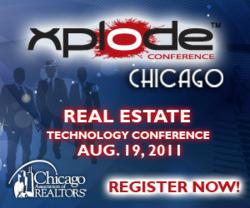 Atlanta, GA (PRWEB) July 29, 2011
Xplode Conference announces our partnership with the Chicago Association of REALTORS® to bring this powerful tech conference to the Chicago area. The conference will feature 25 amazing speakers on topics ranging from mobile marketing and video to social media, real estate business systems and IDX/Search.
Xplode Founder Matt Fagioli says "Chicago is one of the most vibrant real estate markets in the US and we're thrilled to be coming to town next month!"
Chicago Association of REALTORS® CEO Ginger Downs said...
"Our members look to the Chicago Association of REALTORS® for venues that help them become more profitable by exceeding clients' needs and lowering costs. Xplode Chicago is one such venue. The Chicago Association of REALTORS® is exceptionally proud to sponsor this event, promoting greater business success through use of technology."
The conference will be located at the Doubletree Hotel in downtown Chicago on the Magnificent Mile. Networking and Registration begins at 8am and the full day conference also features a networking cocktail reception immediately following the sessions. Fagioli added "You've never seen this much content in one day on real estate tech. It's an amazing value"
"To thrive and be profitable in today's and future markets, you have to leverage technology to connect with clients and grow your business. Mobile marketing, video, social media and other tech tools are critical to defining one's brand and extending client outreach. Xplode Chicago isn't optional. It's a must-attend event." Mabél Guzmán, ABR, AHWD, President of Business Development and Sales, ENVISION Real Estate, and President, Chicago Association of REALTORS®
About Xplode:
The Xplode Conference Series on Real Estate Technology is coming to a city near you!
Xplode Conference is a product of Helives, LLC based near Atlanta, Ga.
Xplode builds great conferences for real estate in partnership with local associations and MLS organizations.
After our super-successful launch event in Austin Texas on February 10, 2011, Xplode now features real estate conferences on technology in a host of US cities in 2011. The spring series included Destin (FL) on May 19th, Orlando (FL) on June 9th and Washington DC on June 23rd. Xplode plans fall 2011 events including Dallas (TX), Chicago (IL) and Atlanta (GA). Xplode Conference also highlights the most powerful real estate technology and marketing products. Sponsors include Market Leader, Mobile Real Estate ID, vScreen, RPR, Realtor.com, Zillow, Homefinder, NCI, Exit Realty, Diverse Solutions and more. For more information, please visit XplodeThis.com
The Chicago Association of REALTORS® (C.A.R.) is the "Voice for Real Estate®" in Chicago since 1883, representing more than 12,000 members from all real estate specialties including commercial sales, development, property management, appraisal, auctions and residential sales. Visit us online at http://www.ChicagoREALTOR.com.
# # #