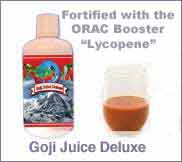 This goji juice taste amazing and is so good for the body!
Salem, Oregon (PRWEB) July 30, 2011
The goji berry has recently found its way into many of today's products and is often a popular choice among busy people that would like to maintain a healthy lifestyle. Gojiberries.us, the flagship website for Goji's & More Inc., recently announced the launch of their new product, Goji Juice Deluxe.
"The people of Tibet have been using goji berries for thousands of years," says Jenifer Bachelder, founder of Gojiberries.us, "and after numerous clinical studies, nutritional experts have agreed that the goji berry is probably your best source of anti-oxidants. All we've really done is made these little berries into a great tasting juice."
"Not only does it taste good," says Bachelder, "but our new goji juice has many positive health benefits too." Goji berry health benefits include: increased energy, mood elevation, and more restful sleep.
"Our Goji Juice Deluxe is made with berries that we import directly from the lower Himalayas, an area known to produce the best quality goji berries. With this kind of product control we can maintain strict quality standards ensuring that everything that goes into our goji juice is of the highest quality," explains Bachelder.
Goji's & More Inc.'s proprietary juicing technique allows for all components of the goji berry to be processed, from the juice, to the skin and fiber, and even the seeds of the berry, which are typically filtered out through conventional juicing methods. The result being a product with a highly concentrated amount of goji juice, and one that contains a higher potency of such nutritional properties as amino acids, minerals, fatty acids, vitamins and antioxidants. Much more in fact, than most other goji juice products on the market, hence Goji's & More Inc.'s new product name, Goji Juice Deluxe.
Goji's & More Inc., cares about the health of their customers. For that reason they not only sell products made from the Goji berry, but they also sell these amazing berries themselves, in retail, wholesale and in bulk. In addition to goji berries, they also offer certified goji seeds, so that customers can grow their own berries at home.
###