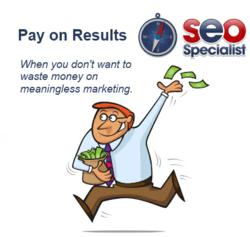 Many small businesses never reach success in major search engines. The main reasons why they don't succeed include dated web content, poor content that's not related to what people search for and lack of relevant incoming links with high quality.
London, England (PRWEB) July 31, 2011
Many small businesses are reluctant to invest in search engine optimisation due to the lack of transparency and requirements to pay a considerable amount of money without any result based incentive.
When SEO Specialist asked small businesses which kind of online services are missing in the market, performance-based website optimisation was the majority response.
SEO Specialist realised the gap in the market and created an SEO service suitable for all companies.
"It's sad to see a small business spending large sums on website optimisation with little or no return on investment", says SEO Specialists founder, Markus Jalmerot.
He continues: "Website optimisation is highly measurable. If our SEO Specialists don't manage to create top 10 rankings in the leading search engines, there is no monthly fee".
How do most businesses pay SEO companies today?
Most companies take all the risk themselves when hiring an SEO company. The average SEO company in the UK charge a start-up fee of £2500-£5000, followed by monthly fees.
With SEO Specialists' new result based website optimisation it's different. SEO Specialist only charges for excellent performance – top 10 placements in the major search engines.
How does SEO Specialist's Pay on Results SEO work?
After analysing the website and main competitors, a free keyword analysis is performed. SEO Specialists finds the most relevant keywords to optimise and provides realistic Google, Yahoo and Bing ranking targets.
Unless top 10 rankings in Google for relevant keywords can be achieved, there are no ongoing costs.
Why do most companies fail to rank in top positions for relevant keywords?
There are many possible reasons why companies do not succeed in search engines like Google, Yahoo and Bing. After working with website optimisation clients in four countries for over six years, SEO Specialist's chief executive Markus Jalmerot shares some conclusions why most websites fail to rank well in search engines.
1. Website not built in a search engine friendly manner
A website must be built to enable search engines to find and read all the web content. Search engine specialists can help solving any kinds of technical SEO issues on an early stage.
2. New content seldom uploaded
Unless new content is written and uploaded frequently, the website will be considered "dated". Search engines don't want to show dated web content, so it's required to keep the website up to date at all times.
3. Poor web content not describing what people search for
Few companies do proper keyword analysis and analyse what potential customers actually search for in Google, Yahoo or Bing. One of the most important website optimisation factors is to allocate relevant keywords on various sub-pages and set-up a complete SEO strategy based on what users actually search for. SEO Specialists performance based website optimisation solutions include a proper keyword analysis free of charge.
4. Lack of backlinks
Without enough backlinks, small business websites will continually fail to accomplish top rankings in the major search engines. Backlinks can be seen as votes and a handful is simply not enough.
5. Primary low quality incoming links
What sets apart top ranking websites from the ones that nobody will find is trustworthy incoming links. Receiving several highly trustworthy votes will make a website more credible, while increasing search engine rankings.
For those who would like to find out how to create a website in the best manner for search engines, read the SEO School. It's free, simple and straightforward guide to website optimisation.
About SEO Specialist:
SEO Specialist Limited (seospecialist.co.uk) is an SEO company based in London. It was created at the end of 2010 by Markus Jalmerot. With eight years experience in website optimisation, SEO specialist offers a wide range of first class SEO services.
SEO services offered include pay for results SEO, search engine consultancy, link building solutions, keyword research, website analysis and multilingual SEO. The SEO company's website features an extensive SEO guide (seospecialist.co.uk/school/) that is both simple and straightforward.
###