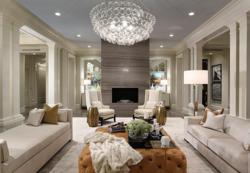 Winter Park, FL (PRWEB) July 29, 2011
Marc-Michaels Interior Design, Inc. received the prestigious Aurora Award for Interior Detailing and Grand Aurora Award during the Southeast Building Conference in Orlando. Mark Tremblay accepted the award on the firm's behalf Sat., July 23, at the gala event held at the Rosen Center Hotel.
Aurora Awards are presented annually to outstanding builders, planners, architects, developers and interior designers who are actively involved in projects located in the Southeast. The award-winning home, located in Boca Raton, FL, was built by Frankel Estate Homes, Inc., and designed by Carlos Martin Architects, Inc.
Marc-Michaels' senior designers Melissa Adair and Lindsey Rejtharkova along with Lauren Saunders, and Roy Davis took a new approach on classic detailing by blending old architectural style with a new 2012 signature design built for modern living. The result was pure, clean and timeless. The color palette took a new approach to neutrals by combining the use of warm camel tones with cool grays, providing a clean "menswear" feel. The kitchen's focus was the contrast between light and dark, seen in the moldings and cabinets. Traditional columns, repetitive square coffers and a monolithic fireplace clad in kingwood marble are examples of the elegant and symmetrical designs in this home that remain sophisticated and fresh.
Consistently ranked as an industry leader, Marc-Michaels Interior Design has been providing highly imaginative interior design and merchandising services for more than 25 years. An emphasis on interior detailing combined with a "casually elegant" approach to design form a unique offering sought by clients on an international level. The firm specializes in translating its signature look to private residences, commercial projects and model home merchandising.
Co-CEOs S. Marc Thee and Michael J. Abbott lead a staff of 35 with office locations in Winter Park and Boca Raton, FL. For more information visit http://www.marc-michaels.com.
###