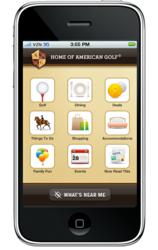 We all know that planning a leisure or business trip is not an exact science – unexpected, intermediate adjustments/opportunities naturally pop up.
Southern Pines, NC (PRWEB) July 31, 2011
In keeping with the technology pace of today's consumers, the Convention & Visitors Bureau(CVB) of Pinehurst, Southern Pines, Aberdeen will introduce a Mobile App this fall to help visitors discover all the area has to offer. For more than one million annual visitors, the App will provide information on area businesses listed under appropriate categories such as dining, deals, things to do, family fun, and events. The App will be the premier, on-the-go resource for anyone in the Sandhills.
Users will find money-saving offers from local businesses as well as engaging editorial stories about area attractions and activities.
The App will be available via a free download from the Apple App Store and the Android Market. It will be compatible with iPhone, iPod Touch, iPad and Android devices.
The App makes it easy to find information and access local businesses. A click-to-call feature lets users phone a business with just one push of a button. The map feature gives precise locations for businesses. There's also the ability to link directly to a shop or restaurant's website from their listing. The, "What's Near Me," feature shows businesses within five miles of your current location, making it easy to find a place to eat, shop or play from wherever you are in the Sandhills.
The App is just one more tool the CVB offers to consumers for planning and enjoying a trip to the destination. Whether you are visiting for a golf trip, family event, short getaway or a stopover during a long road trip, the CVB provides an Official Destination & Golf Guide in hard copy or digital format, website http://www.HomeofGolf.com, and now the soon-to-be released Mobile App to make your trip as enjoyable as possible.
According to Caleb Miles, president and CEO of the CVB, "We all know that planning a leisure or business trip is not an exact science – unexpected, intermediate adjustments/opportunities naturally pop up once you're on the ground at the destination. The beauty of this new App is that it's as adaptable as you need to be, allowing you to make changes/additions on the fly while you are here at the Home of American Golf®. And, for the tourism businesses in Moore County, it spells opportunities to drive new business. "
###