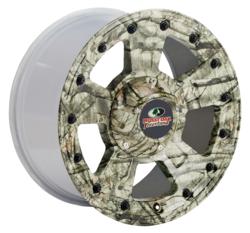 "We are excited to expand our exclusive wheel offering with this popular Treestand pattern," said Lynn Parker, SVP of Purchasing at TBC Retail Group. "The high quality workmanship from Mossy Oak products is a big hit with the outdoor enthusiast."
Juno Beach, FL (PRWEB) July 29, 2011
TBC Retail Group (TBC Retail) today unveiled its Mossy Oak 407 Kamo Kat wheel in the popular Treestand pattern. Designed with the outdoor enthusiast in mind, the 407 Kamo Kat is available in 16, 17, 18 and 20-inch truck and SUV fitments. Available exclusively at Tire Kingdom®, NTB-National Tire and Battery®, Merchant's Tire and Auto centers® and Big O Tires®, the 407 Kamo Kat joins TBC Retail's popular 472 Pursuit wheel, also in the Treestand pattern.
"We are excited to expand our exclusive wheel offering with this popular Treestand pattern," said Lynn Parker, SVP of Purchasing at TBC Retail Group. "The high quality workmanship from Mossy Oak products is a big hit with the outdoor enthusiast."
TBC Retail Group produces official licensed products of Mossy Oak/ Haas Outdoors Inc. Haas Outdoors Inc., is headquartered in West Point, Miss., was established in 1986 and is home of Mossy Oak (http://www.mossyoak.com). Mossy Oak specializes in developing and marketing modern camouflage designs for hunters and outdoorsmen. Mossy Oak patterns can be found on a multitude of products worldwide. Haas Outdoors Inc. is the outdoor industry leader in modern camouflage design, international licensing and marketing. Haas Outdoors Inc. markets its services and products under widely recognized brands including: Mossy Oak, BioLogic, Mossy Oak Productions, MOOSE Media, Native Nurseries and Mossy Oak Properties.
For more information on the products and services available at Tire Kingdom, NTB, Merchant's Tire and Big O Tires, visit http://www.servicecentralauto.com or call 800-NEW-TIRE to locate a store near you.
ABOUT TBC RETAIL GROUP
Headquartered in Juno Beach, Florida, TBC Retail Group, Inc., a subsidiary of TBC Corporation, operates more than 775 tire and automotive service centers under the brands: Tire Kingdom, NTB - National Tire and Battery, and Merchant's Tire and Auto Centers, along with over 400 franchised Big O Tires locations. The contingent of more than 1200 stores has trained and certified ASE technicians who use state-of-the-art equipment to provide quality service on cars and trucks. The nationwide warranty provides peace of mind while it protects consumers and their investment in over 40 states. TBC Retail Group employs more than 300 associates at its Juno Beach, Fla. headquarters and approximately 10,000 associates nationally. To locate a store near you, call 800-NEW-TIRE. TBC Corporation, headquartered in Palm Beach Gardens, Florida, is one of the nation's largest marketers of automotive replacement tires through a multi-channel retail and wholesale strategy.
###