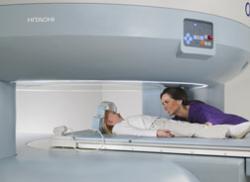 ...this innovative 1.2 TeslaOpen MRI System allows us to provide our referring physicians with excellent image quality and our patients with the comfort they deserve.
Chicago, IL (PRWEB) July 31, 2011
The Illinois Bone and Joint Institute, Chicago's leading provider of orthopedic care, announces the addition of the "Oasis" High-Field Open MRI System.
Magnetic Resonance Imaging, or MRI, revolutionized the diagnosis of orthopedic, rheumatologic, and other medical conditions. MRI scans produce superior images of the body interior, but without the use of radiation, as can be the case with other diagnostic services, such as X-rays and CAT scans. Medically, the MRI offers the best option for detecting the onset or existence of internal medical conditions and pathology.
As part of their ongoing mission to offer the convergence of quality and convenience, IBJI MRI has added the most technologically advanced Open MRI scanner available to their Bannockburn, IL, location. "Pressing forward with this innovative 1.2 Tesla Open MRI System allows us to provide our referring physicians with excellent image quality and our patients with the comfort they deserve," says Thomas F. Nagelli, Director of MRI Services. "With the combination of the faster scan times and the open architecture, we are able to best serve patients of all types in this bore-less MRI System."
The Oasis MRI has an industry-leading patient table and an unobstructed lateral opening, which means that it is capable of obtaining exceptional image quality for people of any age, weighing up to 660 lbs; for an array of medical conditions; and regardless of whether claustrophobia is a concern. Also, this unit is well suited for Pediatric and Geriatric support, allowing parents and caregivers to be in constant contact with their loved ones throughout scans.
As an added benefit to our patients, "We are excited to also be introducing Arthrograms at our Bannockburn facility, which will be performed by a Board Certified Radiologist," Mr. Nagelli added.
Through IBJI MRI, physicians benefit from the flexibility of customizable protocols, the premium images their cutting-edge technology produces, and from the sub-specialized image interpretations given by Board Certified Radiologists. In turn, patients enjoy the ultimate MRI experience through the unparalleled comfort and service IBJI MRI staff provide. Also, with 8 MRI locations conveniently located around the Chicagoland area, and with the expanding scope of their services, IBJI MRI is poised to meet their mission of serving their physicians and patients best.
With nearly 90 orthopedic physicians specializing in over 25 clinical areas, the Illinois Bone and Joint Institute (IBJI) is the leading provider of orthopedic, rheumatologic, or podiatric services in the Chicago-land area. If you would like more information about high-field open MRI or other orthopedic issues, contact Andy Salmen by calling 847-720-7007 or by emailing him at asalmen(at)ibji(dot)com.
###