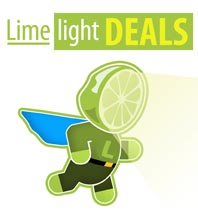 Limelight Deals made a smashing debut with a fabulous deal from Domino's Pizza.
New Bedford, MA (PRWEB) July 30, 2011
The first group-buy deal from Limelight Deals launched on Tuesday, July 26 at midnight and buys continued steadily all week long. The first deal, for a locally-owned Domino's pizza restaurant, offered a fully-loaded large $6 pizza which was very popular, selling over 150 deals by week's end. Deals for A Kitchen--a Chinese restaurant, a massage or facial from Gentle Touch Salon and a deal for bowling at Wonder Bowl in New Bedford, MA were also very popular with consumers.
Those consumers--readers and online users--sign up for e-mail alerts at LimelightDeals.com, and the process is similar to Groupon or LivingSocial: After signing up, participants regularly receive offers by e-mail. Deals can be purchased online and the customer takes the coupon they receive to the retailer or restaurant where it is honored. The deals need to have enough buyers to "tip" the deal or have it go active, and the deal is only available for a limited time. There is also a limit on how many of each deal an individual can buy. After the deal ends, those who bought the deal can print out a voucher for the service.
SouthCoast Media Group Publisher Peter Meyer says he's pleased with the results.
"Limelight Deals made a smashing debut with a fabulous deal from Domino's Pizza," says Meyer. "This fun new product is already a great success for local businesses looking to generate energy and attract new customers. And, it's been exciting to see the huge response as hundreds of local residents have taken advantage of Limelight Deals to save 50% or more on local offers."
SouthCoast Media Group solicits deals from local restaurants, spas, sports adventures, lodging, car maintenance and other ventures that have proved successful in the online coupon market.
Unlike Groupon and LivingSocial, deals come from merchants in the SCMG readership area, and from a trusted, local source, Meyer said. Upcoming deals include discounts at Michael Wayne's Hair and Skin Salon, I've Got Rhythm Dance Center and Marx Auto Center.
"Based on the strong response during this first week, Limelight Deals will be great fun and beneficial for area businesses and SouthCoast residents alike," says Meyer.
To sign-up for Limelight Deals and never miss a deal visit http://www.LimelightDEALS.com.
ABOUT DOW JONES LOCAL MEDIA GROUP
Dow Jones Local Media Group (http://www.dowjoneslmg.com), operates eight community media groups around the country – including SouthCoast Media Group – that collectively are comprised of 8 daily and 15 weekly newspapers, several lifestyle magazines and other niche publications, and a multitude of affiliated Web sites in seven states.
ABOUT DOW JONES & COMPANY
Dow Jones & Company (http://www.dowjones.com) is a News Corporation company (http://www.newscorp.com) and a leading provider of global news and business information. Its principal products include The Wall Street Journal, Dow Jones Newswires, Dow Jones Factiva, Barron's and MarketWatch. Dow Jones also provides news content to television and radio stations.
# # #