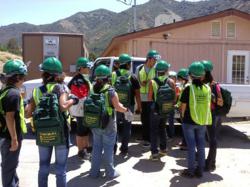 "We have really good kids on the reservation," stated Gina Norte, mother to Shane and Gabrielle Norte, two of the students, "they care about their tribal community."
Warner Springs, Calif. (PRWEB) July 29, 2011
Executive Director Theresa Greogr of the Inter-Tribal Long Term Recovery Foundation along with Julian CERT instructors, Johnny and Diane Hake, co-instructed a two week Community Emergency Response Team course for Los Coyotes Indian Reservation tribal youth. The course began on July 12th and ended July 27th. Twelve students from the Warner Unified School District ranging in ages from 13 to 18 completed the nine unit course. The ITLTRF's Community Disaster Education Fund supported by AMERIND Risk Management Inc, SDGE Community Partner Grant, and a generous donation from the Rincon Band of Luiseno Indians provided financial assistance for the program.
The national CERT program is part of FEMA's Citizen Corp curriculum that was developed in response to the 9/11 Terrorist attacks against the United States. The Citizen Corps program encourages volunteerism, civic duty, and provides training to local communities to assist with rescue efforts and first response during a major emergency. Preparing for disasters from all threats to the reservation and tribal community is the core component of the TTribal Teen CERT class.
The Los Coyotes Indian Reservation is located in northeastern San Diego County near Warner Hot Springs and it is one of the most rural and mountainous Indian reservations in the County. During the Tribal Teen CERT training the Eagle Fire broke out on July 21st and has burned over 14,000 acres on the reservation providing the students with an urgent example for the need to prepare.
Throughout the course, tribal youth learned to conduct light search and rescue operations in teams of three; the students learned to use fire extinguishers and worked in pairs to put out a pan fire; and Mercy Medical services in coordination with the Pala Fire Department provided first aid and CPR instruction for the teens. The final day of the program consisted of a drill-exercise in which the teens responded to a disaster earthquake scenario. Parents, staff, and family members volunteered to act as "victims" for the teens to practice their newly acquired emergency response skills.
The program ended with a graduation ceremony for the youth and a family potluck. Each graduate, after taking the California Disaster Service Worker's Oath, received a Tribal Emergnecy Response Team Backpack loaded with supplies. The Los Coyotes Tribal Teen CERT program may be the first of its kind on San Diego County tribal lands; however, Julian CERT and the ITLTRF are hoping to make the program one of many throughout Southern California Indian reservations.
Johnny Hake, Teen CERT instructor, told the students that "it was an honor to assist them" with the training. To watch a video of the training highlights, please visit http://www.ITLTRF.org.
###