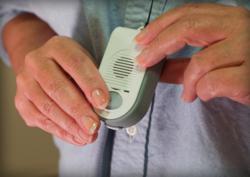 We are extremely confident that TouchPoint Safety, with the vast experience of its principals, will be very successful. We are so pleased to be a part of their team.
King of Prussia, PA (PRWEB) July 29, 2011
Medical Alarm Concepts Holding, Inc. (OTCBB:MDHI), manufacturer of the MediPendant™, the first fully-monitored medical emergency alert system that allows you to speak and listen directly through the medical pendant, announced today that it has signed a strategic partnership agreement with TouchPoint Safety, LLC, to promote the company's premier rescue alert device, the MediPendant™.
TouchPoint Safety, a Delaware based LLC, was founded by three (3) corporate executives with 50 years combined experience in national distribution, Internet marketing, and security and safety products and services. The company was established based on the fact that its key principals realized the incredible rate at which the personal emergency response system (PERS) industry is growing to provide elderly help and decided to make a sizeable investment into medical alert services while the industry was still in its infancy.
"We are very excited that TouchPoint has decided to utilize our technology," said Ronald Adams, CFO of Medical Alarm Concepts. "We are extremely confident that TouchPoint Safety, with the vast experience of its principals, will be very successful. We are so pleased to be a part of their team."
TouchPoint Safety plans to begin marketing the medical alert necklace, MediPendant™, on or before August 15th, 2011, with a full-scale Internet marketing campaign. "We realize that to compete on the Internet a sizable investment is needed, and we plan to spend the money to compete for that business," said a TouchPoint Safety spokesperson. TouchPoint Safety will follow up with several other campaigns including hospital programs, alternative to assisted living programs, medical representative programs, and several advertising campaigns. In addition, TouchPoint Safety will be a leader in a vast network of national dealers currently working to promote the MediPendant™ product, bringing a sizable and fast infusion of customers to TouchPoint Safety. For more information on the MediPendant™ program and personal emergency response devices through TouchPoint Safety, please visit http://www.touchpointsafety.com/.
The Medical Necklace That Can Save Lives
Primarily utilized as a medical alert for seniors, the MediPendant™ has portable speak and listen technology, allowing for easy contact to a call center of certified EMTs for dispatch in case of a critical situation. This medical emergency alert involves a 3-way conferencing system that enables the emergency support representative to interact with the immobile customer's family or guardian; instant text alerts are also sent out to keep loved ones up to date on the monitored individual's status. Individuals are able to walk quite a distance with this medical pendant without feeling limited in or around their own home, unlike out-of-date devices that required individuals to stay close to the emergency base in order to explain their crisis. With a powerful range of 600 feet, this water-proof medical necklace can be used anytime, anywhere. This product allows direct communication to emergency professionals to confirm the proper response required – the police, fire department, ambulance, or a simple answer as to whether the individual is safe or not. With the MediPendant™, consumers avoid the costly mistakes of outdated systems and can help prevent situations that involve the individual's inability to notify the medical professionals correctly in a timely manner. To preview how the MediPendant™ functions, please visit http://www.touchpointsafety.com/pages/video.html.
As an added value, the MediLok, a combination lock that can be hung on a door knob similar to a realtor's lockbox, is included with the purchase of the annual or lifetime MediPendant™ payment plan. The MediLok lockbox program gives the customer ability to store a key securely outside the home, providing dispatched personnel accessibility when given the secure code by the call center operator, in order to help prevent damage to the door during assistance or rescue.
About Medical Alarm Concepts
Medical Alarm Concepts (MAC) develops and manufactures innovative products and practical solutions within the framework of a vast growing marketplace. We have built our reputation in the personal emergency response system (PERS) and medical alert industry. With patented technology and state-of-the-art services, MAC is uniquely positioned to mobilize the right people, skills and alliances to ensure success and client satisfaction. Our design and support philosophy emphasizes industry best practices, while providing polished and savvy solutions. MAC's latest innovation is the development of its two-way voice speakerphone medical pendant technology.
Safe Harbor Statement
Statements in this press release that are not statements of historical or current fact constitute "forward-looking statements." Such forward-looking statements involve known and unknown risks, uncertainties and other unknown factors that could cause the Company's actual operating results to be materially different from any historical results or from any future results expressed or implied by such forward-looking statements. In addition to statements that explicitly describe these risks and uncertainties, readers are urged to consider statements that contain terms such as "believes," "belief," "expects," "expect," "intends," "intend," "anticipate," "anticipates," "plans," "plan," to be uncertain and forward-looking. The forward-looking statements contained herein are also subject generally to other risks and uncertainties that are described from time to time in the Company's filings with Securities and Exchange Commission.
###