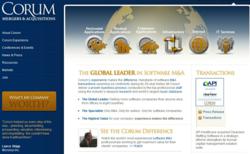 "Only 20% of self-managed M&A efforts results in a successful sale. Most end in 'Deal Disasters.'"
Seattle, WA (PRWEB) July 29, 2011
Corum Group, the international leader in software and technology merger and acquisition services, will hold its Tech M&A Monthly webinar on August 4, 2011, at 1 p.m. (NY Time). The August theme for the webinar is "Deal Disaster OR Optimal Outcome," and will include a special report on the July Casual Games conference in Seattle.
Corum's Tech M&A Monthly webinar series features the Corum Index, a discussion on current trends and business valuations in the technology mergers and acquisitions sector, with information broken down into 6 market segments and 26 separate sub-categories. This allows executives from every field to see where their company is trending relative to valuations with up-to-the-moment statistics. The Corum Index is authored by an expert research team, who measure recent M&A activity against long-term trends, and offer insight on what to expect in coming months.
"Only 20% of self-managed M&A efforts results in a successful sale," explained tech M&A advisor Nat Burgess, President of Corum Group. "Most end in 'Deal Disasters.' For this webinar, we have compiled a panel of 20 international deal-makers and CEO's who survived botched deals and navigated new deals with keener insights. The will share their "10 Steps to Optimal Outcome" – advice that will immediately increase a software or tech company's value and help bombproof their M&A efforts."
The August M&A Monthly will also feature a report by Mario Vassaux, Corum Advisor and computer games veteran, about the Annual Casual Connect games conference held in Seattle in July. Corum Group hosted an afternoon panel led by Dougan Milne, Vice-President of Research, at the Casual Games conference, focusing on buy-side and sell-side M&A in the casual games sector.
This web event will be broadcast live on August 4, 2011, starting at 1 p.m. (NY time).
Participants are encouraged to register early, as space is limited. Two rebroadcasts for European and Asian audiences are scheduled for August 11, at 3:30 a.m. and 11:00 a.m. (NY time).
The August 2011 M&A Monthly webinar will also include commentary from prominent tech & software company leaders, including:

Michael Dalesandro, Chief Executive Officer of Where I've Been, where he leads the strategic direction, positioning, finances and business development of the company. Where I've Been offers a socially-networked interactive world map that lets travelers share where they have been, lived, and want to go. Where I've Been was acquired by TripAdvisor in mid-July for an undisclosed sum.
Jim Perkins, the well-known video game industry entrepreneur and senior executive with an 18-year track record of publishing best-selling hit games. Jim co-founded and grew two highly successful video game publishing companies, FormGen and World Entertainment Broadcasting (Arush), from start-ups to multi-million dollar enterprises. He is credited with publishing such hit franchises as Duke Nukem, Wolfenstein, Doom, Driver, Unreal, Powerslide, Hunting Unlimited, and Playboy, among many others.
The web event will end with a Q&A session, including members of the seller's panel, so that attendees can get information directly from the source. Participants are welcome to send in their questions via Webex, as Corum researchers and deal makers will also participate, providing an opportunity for those hesitant about M&A to find out how to get started, and what trends to bet on. Questions that are not answered during the web event will be responded to via personal contact afterward.
About Corum Group
With headquarters in Seattle and Zurich, Corum Group has completed more Tech M&A transactions than anyone other M&A firm globally. As a tech M&A leader, Corum sponsors more than 100 educational events for tech executives every year, and has hosted seminars on building value and tech M&A in 32 countries.
Corum Group has recorded hundreds of transactions and has helped generate billions of dollars in wealth. Corum's primary deal-makers are all former software CEOs, and insure more smooth mergers and acquisitions processes than any other M&A adviser. From Silicon Valley to Boston to international deals across Europe and in Asia, all aspects of the merger and acquisition processes are within the scope of Corum's M&A services.
###