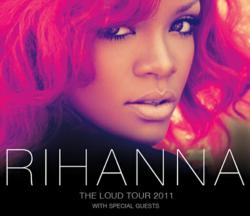 Los Angeles, CA (PRWEB) July 30, 2011
Imagine helping to style one of the hottest celebrities on the planet while traveling the world. Sounds like a dream job right? For Lynze "Lulu" Radzyminski it's a reality. The graduate of FIDM/Fashion Institute of Design & Merchandising's Visual Communications Program just landed a position on the wardrobe team for Rihanna's current LOUD tour.
Her travels have already begun in the American South, followed by the East Coast and then Barbados where the singer is originally from. "From Barbados we travel all over the world!" Lynze exclaims. "I will be out of the country from August until December. It's been a crazy and wonderful year already. I have been blessed a million times over in my career." Prior to working with the R&B star, the FIDM alumna has worked as a wardrobe assistant on the film Ghosts of Girlfriends Past and as an on set costumer for Women in Trouble.
Rihanna's LOUD tour features all new production, costumes, and stage design, creating an over-the-top sensory experience that fans can't get enough of. Artists such as Jay-Z and Kanye West have joined Rihanna for her exciting performances and her wardrobe is a constant source of buzz in the fashion industry and beyond.
FIDM/Fashion Institute of Design & Merchandising is a co-educational, specialized, private college dedicated to educating students for the Fashion, Graphics, Interior Design, and Entertainment industries. Known as a one of the top fashion design schools, FIDM is also a leading graphic design school and digital media college. Visit fidm.edu for more information.
###