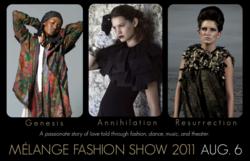 Embracing and celebrating diversity through the arts.
San Francisco, CA (PRWEB) July 31, 2011
Mélange Fashion Show 2011 unites local & international talent with big brands, Nicole Miller, Sephora & Gordon Biersch on August 6, 2011.
Designers and spectators are flying out from Croatia, Australia, NYC, Boston, and more to attend the Mélange Fashion Show 2011. This event will be at the San Francisco Design Center on August 6, 2011, and confirmed partners for the event include Nicole Miller, Sephora, Gordon Biersch, YesStyle.com, and popchips. The purpose of the show is to celebrate diversity and self-love in the fashion industry by featuring designers and models from diverse backgrounds.
The Mélange Fashion Show 2011 features an elegant blend of fashion, theater, music and dance. The show is divided into three scenes (Genesis, Annihilation & Resurrection). It features an original love narrative of two female protagonists, Angelica and Soledad, who bring each other to the near point of destruction, but are subsequently united through love and harmony. The two characters represent different energies of the universe—this allegory serves to support Mélange's mission of understanding individuals from diverse backgrounds. Throughout the story, Korean drumming, Bhangra, Hip Hop, and more will be showcased. Over 15 designers will be featured from around the world, ranging from international designers to local talent in San Francisco. This story line and medley of artistic mediums flawlessly tie together and transition into runway segments of incredible clothing, creating a new genre of entertainment, coined the "Cirque du Soleil of Fashion." Confirmed fashion participants include Nicole Miller, Suzaan Heyns, Prajje 1983, Carmen Chen Wu and more. Three student designers and three international designers will be recognized with awards at the event; designers are excited by this exposure opportunity and are traveling as far as Croatia to attend the show and showcase their garments.
"We aim to empower our community members to participate in the changing perception of health and beauty by showcasing an image of beauty that is reflective of the rich diversity of modern society," says Lani Wyche, the Chief Business Officer of Mélange Productions, Inc. Mélange embraces models of all ethnicities, shapes, sizes, and ages as well as designers from diverse backgrounds. The start up just recently incorporated in January of 2011, and the founders of the company decided to create Mélange in response to other fashion conglomerates that feature a certain body type and image. Since incorporating, Mélange has already worked with established brands, including SKYY Vodka, Hansen's Soda, Sprinkles Cupcakes, and more. "Brands are excited to work with us, because they identify with our mission and purpose of advocating a healthy and diverse image of beauty," states Nick Navarro, Chief Executive Officer of the company.
In just seven short months, Mélange's three young co-founders, Talia, Lani & Nick, have garnered incredible industry support, including securing Bill Guttentag, Oscar-winning movie producer, on the Mélange Board of Advisors. Other prominent Board members include: Guila Kessous, Jean Paul Gaultier's former Creative Director; Jay Calderin, the founder of Boston Fashion Week; Katiti Kironde, the first African American Woman on the cover of Glamour; and Barry Libert, world known social media author and Chairman of Mzinga. These industry leaders are all united and inspired by the mission of Mélange to embrace and celebrate diversity through the arts.
The audacity and vision of the Mélange co-founders is truly an inspiration to young entrepreneurs around the world. In a fashion world dominated by a nearly unachievable body type and image, Mélange is well poised as an industry pioneer in changing the perception of health and beauty in the fashion world. The current success and traction of Mélange in their brief history of existence reveals a bright future for the company, and the Mélange Fashion Show 2011 on August 6th will be an unforgettable evening of entertainment, not to be missed by any person or publication.
For more information or for media, please contact Theodore Palmer, Event Publicist, at creativeedgepr(at)gmail(dot)com or at 6465752967.
###