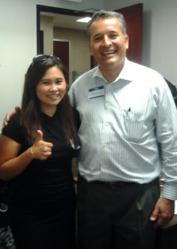 San Diego, CA (PRWEB) July 31, 2011
Many walks of life went to see Senator Juan Vargas on the afternoon of 4 p.m. up to 7 p.m., July 27, 2011 on Wednesday. He stood at his office door and greeted individuals with a smile and full of enthusiasm to all that attended. Each guests and constituents had an opportunity to speak and connect with him about what mattered most regarding their concern within the boundaries where the 40th District covers. The staff's who are his liaisons were available at the open house as well. They tried to connect with the constituents too.
Senator Vargas now has a total of three offices which is located in Sacramento, El Centro and Chula Vista. He recently relocated his San Diego County district office to Downtown-Chula Vista. A SCCPress.com Reporter spoke to Hector Rivera a District Liaison aide and said, "This office was made available due to the affordability of the office space versus the other office which cost more. It is more favorable and reaches out to other constituents who may need the Senator to be more accessible." State Senator Juan Vargas encourages his constituents to drop by whenever they are in need of assistance.
One constituent who spoke to a SCCPress.com Reporter would like to remain anonymity since she worked as an educator for the Otay Mesa prison said, "I was at a doctor's appointment, and it was nice to be able to drop by because I heard that the Senator Juan Vargas would be here. I wanted to get the opportunity to meet him."
SCCPress.com Reporter spoke to former aide George Balgos, the only mestizo Filipino American and Latino descent who served under Honorable Vargas said, "After working for Juan for the San Diego City Council, District 8, and the State Assemblyman, for the 79th District...the political assistance of being with him was over."
Meanwhile, Mr. Balgos currently got his real estate license a month ago and is very excited about being an entrepreneur and businessman. Prior to him being a entrepreneur, he was a former Director of Outreach and Communications for the San Diego City Fire Fighters in Mission Valley.
State Senator Juan Vargas served as a two terms San Diego City Councilmember for 8 years. He then served as a three terms State Assemblyman for 6 years. During his tenure in leadership as a former Assemblyman, he had the opportunity to change the name of a portion of the California State Route 54 Freeway to the first Filipino American Highway in United States which stretches for 7 miles. It is the only one in the United States that honors the Filipino Americans in that vast of a magnitude.
Last year in 2010, he was selected for one of the 5 "Outstanding Leaderships Awardees in San Diego County" at the Los Angeles Convention Center from one of the largest Phil-Am Expo in California and a Project of First Tri-Media Group of Companies: Philippine Media Los Angeles; Radio Manila Worldwide; Philippine Media San Diego; Nevada Examiner; Philippine American Expo: Philippine Village.
Others who were awarded were Oscar Sa. Garcia, President, Military Officers Association of America (MOAA), Branch 84 and the co-founder Oscar Sa. Garcia Foundation; Co-founder of PTE-HOPE, Inc. (Pagasa-Tumainisha-Esperanza-Hope Inc.), FACE (Filipino American Community Empowerment) and CFAC (Concerned Filipino American Club) Eddie Enriquez; and Maxine Sherard, Ph.D., co-founder and Vice President of PTE-HOPE, Inc. and co-founder and former President of the San Diego Dr. Martin Luther King Club of San Diego County.
Honorable Juan Vargas through an SCCPress.com interview indicated that he is trying to make an effort to participate in the "Cutting of the Ribbon" for the Grand Opening which will be held at the Los Angeles Convention Center for the 26th Annual Phil-Am Expo on September 24, 2011 at 3 o' clock p.m.
Several Who's Who in San Diego County were in attendance such as Chula Vista City Councilmember Steve Castaneda; George Balgos; Dr. Maxine Sherard; Regina Ong-Garcia, Rolling Hills/Eastlake resident; E. Enriquez and many others.
The State Senate for the 40th District encompasses: San Ysidro, Imperial Beach, Coronado, National City, Chula Vista, Paradise Hills, City of SD (Golden Hills, South Park, City Heights, Barrio Logan, Logan Heights, Sherman Heights, Southcrest)-South of San Diego, Imperial County and Riverside.
For further info on how to contact State Senator Juan Vargas on your concerns and issues please contact Chula Vista Office at (619) 409-7690.
###