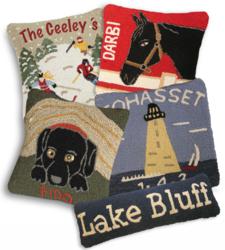 a favorite skier or snowboarder can get his or her name on a pillow
Manchester, VT (PRWEB) July 30, 2011
Chandler 4 Corners' custom Name-Your-Own Pillows are hot right now and the line has expanded with more than a dozen new designs to respond to demand. It is growing fast for good reason: people love to give and receive personalized gifts.
These pillows—often displaying a bit of sassy wit —show dogs in boats ("sea dogs"), anchors aweigh, dogs flying kites, skiers schussing, and many more to choose from. Fishermen, sailors, skiers, beach umbrellas, dogs, and horses in all sorts of attitudes populate square or horizontal pillows (and rugs!).
Enough lead time is crucial, however, according to company president Henry Chandler. "It's at least 5 or 6 weeks to get a name on a pillow or rug, so we really encourage early ordering. It's a sad thing when people call in November and it's really too late to get in a gift with a personalization by the holidays. Do it now and there is that additional huge benefit of getting challenging gifts out of the way early," says Chandler.
Chandler offered some ideas for "Name Your Own Pillow" from the ones people have ordered in the past. "A dog's name, of course, on a dog pillow or rug, or a boat name or the name of the head sailor or first mate, a favorite skier or snowboarder can get his or her name on a pillow, some folks like their favorite town or honeymoon resort! It can be whatever name you want, as long as it is no more than 11 characters. That's more than enough room to say 'Cap'n Andy' or 'Tahiti' or 'Sit, Carl,' or 'Grandma'—and won't they just love it!"
Chandler 4 Corners has been offering handmade pillows, rugs, and accent furniture to discriminating buyers since 1988 from it's home in Vermont. Made of pure New Zealand wool, the pillows and rugs have the durability, glowing colors, and ease of care that wool offers, and striking motifs by noted designer Laura Megroz. Visit online at chandler4corners.com or call Carolyn at 1-800-239-5137 and request a catalog or order your personalized pillow now!
###