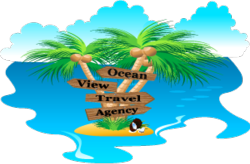 Catch the Big Deals at the Ocean
(PRWEB) July 31, 2011
Ocean View Travel Agency has developed a new website that will help the traveler learn more about the destinations they are interested in. Co- founder Chris Horner said, "We Pride ourselves on giving quality destination information so the consumer can make an informed decision on where they want to vacation and what types of vacations are out there such as all-inclusive vacations, cruises, escorted tours and guided tours."
Also, Ocean View Travel Agency has been blogging about opening a much needed tour service in the Dominican Republic for over a year. They announced today that on October 1st 2011 two new websites will be open to the public to book escorted and guided tours for the Dominican Republic. The website names are Dominican Republic Escorted Tours and Dominican Republic Guided Tours. The tours will begin after the New Year in February of 2012.
Co-Founder Leomarys Urena told us "Making friends for life along with helping make dream vacations become reality is one of the most rewarding experiences for us." Clients of Ocean View Travel Agency have expressed that they had a memorable trip to the Dominican Republic to relax at one of the many All Inclusive Resorts but, exploring the country deeper would be of great value.
Ocean View Travel Agency gave a sneak peak today of a few activities that will be in their tour packages. They stressed that the below information is only a fraction of what they have in store for travelers. If anyone wants to learn more before the October date they can sign up for the newsletter about the tours that will give out information as it unravels.
A few of the activities discussed for the tours was exploring the new world's oldest city Santo Domingo in the colonial zone. Tours of coffee plantations that one of which is owned by Julia Alvarez, the famous writer that wrote "In the Time of the Butterflies" and "How the Garcia Girls Lost Their Accents" naming a few. On her plantation she has a little schoolhouse that she keeps running from donations by the community. While these are a few historical places they talked about they have also talked about adventurous experiences such as scuba diving, river rafting, and even hiking through the rainforest to reach an untouched waterfall in this exotic land.
How do they know so much about the Dominican Republic? One of the co-founders Leomarys Urena was born and raised there. With help from her family and the Dominican people Ocean View Travel Agency has the inside scoop of the places to go that you won't find on the internet.
They will be offering three tour packages.
1. Tours de Aventura (Adventure)
2. Tours de Historia (Historical)
3. Build Your Own (At least 10 people are required for this tour.)
###