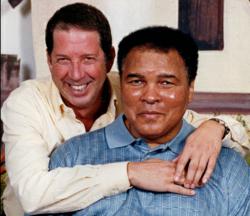 We have decided to reward 50 of our Global Village Champions Members with all expenses paid trips and VIP Tickets to see the fight on November 12 at the MGM Grand, in Las Vegas."
Miami, Fl (PRWEB) July 30, 2011
"The Pacquiao vs Marquez matchup in Las Vegas in November promises to be the most exciting fight of the year!" according to Philanthropist Yank Barry, speaking from his home in Bangkok, Thailand. "It is for this reason that we have decided to reward 50 of our Global Village Champions Members with all expenses paid trips and VIP Tickets to see the fight on November 12 at the MGM Grand, in Las Vegas."
Global Village Champion "The Greatest" Muhammad Ali has been fighting hunger alongside Barry for nearly two decades. Rewarding members with a chance to witness the World Welterweight Championship fight between Manny Pacquiao and Juan Manuel Marquez is only fitting for an organization with so many boxing Champions among its members.
"I look forward to meeting our rewarded members from around the World," said Barry "It will be exciting to learn how they serve their communities. We may even have some brand new members with us because people join our team every day."
Every member has the same chance of winning one of the free trips in our members-only draw here: http://www.gogvm.com/membership.
Our goal is to have A Day Without Hunger on a Global scale by Dec. 31 2013. We believe the Fight Against Hunger is winnable.
For additional information: Kevin Rath VP PR (305) 400-0415 or kevinr(at)globalvillagechampions(dot)org or visit our web site http://www.globalvillagechampions.org
Global Village Champions Foundation Inc.
3430 Poinciana Avenue
Miami, FL 33133
(305) 400-0415
###