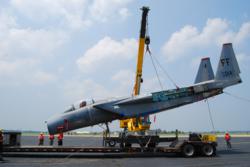 We are extremely pleased to have been selected to display the F-15 Eagle at our Museum for our visitors to see and appreciate
(PRWEB) July 30, 2011
The Chico Air Museum, a small Northern California Air and Space Museum, announced today the projected arrival date of it's recently acquired F-15C Eagle as Sunday, July 31st. The jet will arrive at the museum after a three thousand mile truck trip, crossing eight states.
"We are extremely pleased to have been selected to display the F-15 Eagle at our Museum for our visitors to see and appreciate, " said Norm Rosene, Chico Air Museum acquisition director. "Working with the military to acquire this plane was a long process, but one that will allow us to exhibit a marvel of aviation technology. Once on display, the "Freedom Eagle" will be appreciated and enjoyed by museum visitors for years to come."
The F-15 Eagle is a twin-engine, all-weather tactical fighter designed by McDonnell Douglas to gain and maintain air superiority in aerial combat. It is considered among the most successful modern fighters with over 100 aerial combat victories with no losses in dogfights. Following reviews of proposals, the United States Air Force selected the McDonnell Douglas' design in 1967 to meet the service's need for a dedicated air superiority fighter. The Eagle first flew in July 1972, and entered service in 1976. The F-15 is expected to be in service with the U.S. Air Force until 2025.
The F-15 acquisition increases the number of aircraft at the museum to nine. The collection features historic military planes such as the USAF Lockheed T-33, and the Russian Antonov 2 biplane. The Chico Air Museum collection also includes exotic and unusual aircraft such as the Taylor Titch which raced in the Formula 1 Class at the Reno Air Races, and the Experimental "Dragonfly," a very unusual airplane with forward canard wings.
About the Chico Air Museum
The Chico Air Museum is a non-profit 501(c)3 organization with the mission to help promote the rich aviation history of the Northern Sacramento Valley. Two specific goals of the museum are to honor current and past military veterans, and to educate and inspire young people to value aviation and technology. The Chico Air Museum became a reality in 2004 and is located on the flightline of the Chico Municipal Airport (Northern California). The Museum consists of an outdoor aircraft display, as well as an indoor display of interesting and historic aviation artifacts. The museum is open Fridays, Saturdays, and Sundays 9 AM to 4 PM. For more information about the Chico Air Museum visit ChicoAirMuseum.org
About Zelo Public Relations
Zelo Public Relations is a full-service public relations agency focusing on reputation management strategies for global clients. The agency focuses on pro sports and entertainment clients, sustainability communications strategies, corporate communications, media relations, and media training. Zelo PR is a registered Organizational Stakeholder of the Global Reporting Initiative (GRI) and supports the mission of the GRI to develop globally accepted sustainability reporting guidelines through a global, multi-stakeholder process. More information about Zelo Public Relations can be obtained by visiting the company's website at ZeloPR.com
###