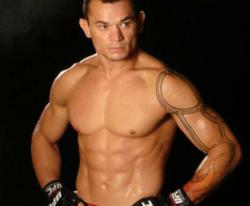 Delray Beach, FL (PRWEB) July 31, 2011
Swole Sports Nutrition (SWOLE™), a fast growing sports nutrition and supplement company, is proud to announce Ultimate Fighting Championship (UFC) and Mixed Martial Arts (MMA) rising star Gleison Tibau as a new Sponsored Athlete and a major part of TEAM SWOLE. This will form a partnership between one of MMA's best in the Lightweight 155 pound division and one of the most exciting sports nutrition companies on the market.
Swole Sports Nutrition has been quickly expanding their line of sports nutrition supplements, and now have five different products available to the public (Evolve, Turbo Shred, Whey Swole, Kreate and Catalyst) and two more highly anticipated products currently in production (BCAAs and Rebuild). Their strategy has been to develop products that can deliver the high quality results that athletes need, but are formulated for use by a broad spectrum of athletes and people alike, regardless of training level. After receiving phenomenal feedback on their nutritional products, SWOLE has now turned their attention to expanding both their TEAM SWOLE Athlete Team and GET SWOLE™ apparel line.
"I have to train hard, and I train year round. With each fight being so important, I need to make sure I have the right nutrition and the right products that help me get the most from my training. Swole delivers, and the products really do work. I am very excited to be part of Team Swole and look forward to big things in the future" says Gleison "Tibau" Alves bout partnering with Swole Sports Nutrition.
As stated in a quote from SWOLE management, "We are thrilled to be partnering with such a dynamic athlete and rising star in the MMA world. He works so hard, and gives it 110% every time he steps in the gym. We are truly inspired by his work ethic. Combine that with loads of talent, and you have a great recipe for success. We look forward to many milestones with Gleison, and are both excited and honored to have him as an integral part of Team Swole".
Already a MMA veteran at such a young age, Gleison has the talent and potential to become a big star in this increasingly popular sport. At 33-7 in his professional fighting career, Gleison looks to push forward and climb the ranks of a very talented 155 division in the world's most elite MMA league, the UFC. Teaming with a highly marketed and growing company like SWOLE can be sure to help Gleison Tibau quickly become a household name in America. Gleison currently trains with the best at the highly respected and world renowned American Top Team facility in Coconut Creek, Florida.
About SWOLE™ Sports Nutrition
Headquartered in Delray Beach, Florida, Swole Sports Nutrition (SWOLE™) is a sports science and nutrition focused company that develops a variety of nutritional supplements designed to achieve maximum results, high potency in low doses and high value offered at competitive pricing. With a rapidly expanding supplement line and a variety of available gear and apparel, SWOLE can provide the necessary essentials to help athletes, at any level, achieve better results in less time. For more information about the company, upcoming events and updates on new products in development, visit http://www.swolesports.com.
For more information about Gleison Tibau, please visit http://www.gleisontibau.com.
# # #