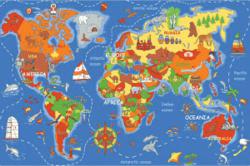 Kids rugs are a helpful educational aid for the bedroom or playroom
Blaine, Washington State (PRWEB) July 31, 2011
Studies continually show children thrive when given opportunities to learn and exercise through active play at home. Parents are the first and foremost teachers for their children and often find computer games and TV to be the enemy of active play.
But now, thanks to a new range of kids rugs from the popular supplier of educational toys and kids furniture, http://www.a-Rocking-Horse-to-Love.com, children are seeing increasing success at home and in the classroom.
Says the web site's founder, Susan Carraretto, "Once young children start school, they still need learning opportunities at home and kids rugs are a helpful educational aid for the bedroom or playroom along with being a practical piece of décor. My girls both love their rugs."
Teaching children the alphabet and growing their excitement for reading before they get to school is important for families so large alphabet rugs for kids are ideal as both a floor covering and a fun way to teach.
Another popular design is the geographical range. How better to remind your children to think globally in this ever-changing world than placing a map of the world on their bedroom floor? Alternately, a map of the United States will teach the states of our wonderful country.
"My girls' favorite is their pink hopscotch rug that keeps them active during the long winter months when playing outside is not possible", Susan tells us.
The range of play rugs includes marble rolling games, snakes and ladders, soccer, cities, animals, transportation and many versions of hopscotch that are fun for most ages.
And, with the entire range of kids area rugs selling at less that $50, this is an affordable way to decorate a room.
No matter what design of educational or play rug your could want, the team at http://www.a-Rocking-Horse-to-Love.com has it covered.
# # #