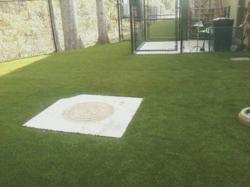 South Carolina Veterinary Specialists did their homework and research, by referral "Ultimate K9 Turf" was selected to be their Pet Synthetic Turf choice
Columbia, South Carolina (PRWEB) July 31, 2011
South Carolina Veterinary Specialist like many Veterinary Hospital has an uphill battle trying to keep a clean and safe surface for all their K9 friends and dogs that visit and board overnight. Susan Davis says she has battled for years the endless effort in the attempt to keep grass in their dog run area. Susan Davis says it became an endless cycle until Susan Davis spoke to one of her colleague and they referred her to the industry leader "Ultimate K9 Turf". Susan Davis soon discovered there was only one way to resolve all the mud and dead grass issues, "Ultimate K9 Turf".
"As South Carolina's first veterinary specialty group, we provide pets and their families' comprehensive care with heart! Like any family member, pets deserve the finest possible medical attention. We believe that attention best results when compassion, advanced technology, and experience come together. That's why our board-certified specialist provides a total care spectrum.
Our state-of-the-art campus also includes Antech reference laboratory and an after-hours emergency practice, providing outstanding 24/ 7 care for your pets. Now we have taken one big step and offer the very best in Synthetic Pet Turf, the "Ultimate K9 Turf", we are very pleased to upgrade our dog run to provide then a cleaner and safer environment during their visit and recovery. South Carolina Veterinary Specialist is located near the I-20 and I-26 interchange, in Columbia, South Carolina. http://www.scvetspecialists.com
In today's market what is better than a referral and recommendation? Nothing, "Ultimate K9 Turf" has a proven track record, developed a pet specific product designed for the pet environment in today's market.
The "Ultimate K9 Turf" requires literally no maintenance, saves one of our most precious resources, water and prevents the application of harmful chemical, which can harm our K9 friends and our natural resource our ground water.
Going Green, helping and saving the environment, South Carolina Veterinary Specialist were very pleased to partner in their newest upgraded feature for their state of the art facility, the "Ultimate K9 Turf"
"Ultimate K9 Turf" was developed and owed by their parent company "Advanced Recreation Solutions, of Mooresville, NC, you can visit their web page at; http://www.ultimateK9turf.com and http://www.advancedrecreationsolutions.com
# # #