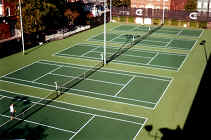 The Growing need to install and resurfacing Tennis Courts, Advanced Recreation Solutions brings their over 30 years of experience in the sport surface knowledge to the courts
Mooresville, North Carolina (PRWEB) July 31, 2011
Advanced Recreation Solutions is now installing and resurfacing Tennis Courts in the Southeast.
As the USTA promotes the 10 and Under Tennis, Tennis court demands are increasing each and every day, from the need of additional new courts, replacing old courts to resurfacing currents courts in need of repair.
Advanced Recreation Solutions is offering Hard Courts, Clay Courts, and the new generation of Tennis Versa Court; http://www.versacourt.com
The increasing demand for outdoor active, looking for a family and community friendly environment, tennis is on the move to enhance it's game, participation, and a healthy life style and community. There are more need to replace old courts, resurface courts in need of repairs to selecting a new court that best meets the needs of the community, park and recreational department to your private clubs.
Advanced Recreation Solutions recognized that there was a need for Tennis contractor in the Southeast. The number of calls Advanced Recreation Solutions was receiving, and with over 30 years of sport surfacing experience decided to enter the market with the increase demands of tennis court repair, replacement, and new installation.
Advanced Recreation Solutions, was approached by one of the world's largest installers and supplier to bring and increase the best solutions and options in the Southeast.
Advanced Recreation Solutions, has the same mission they began their company with over 30 years ago, to provide the highest quality and experience in the industry ARS take each customers satisfaction to heart, ARS joined together with the industry leader in Tennis Courts to provide the Southeast with the best in products, service and new product installation.
Visit: http://www.advancedrecreationsolutions.com
# # #