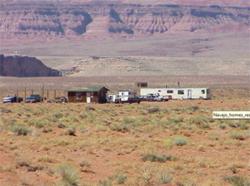 Denver, CO (PRWEB) July 31, 2011
Walk into a Navajo Nation supermarket, and you're likely to see an entire aisle of kerosene – where the toxic fuel is purchased and used for cooking, lighting, and heating in many households there.
Denver-based Eagle Energy and Native American groups have initiated an effort to kickstart a renewable energy movement on the Nation, where an estimated 18,000 households lack electricity according to a recent study by Eagle Energy.
These households are often in rural, hard-to-reach locations in the four corners region of the USA, and are ideal for solar power installations. Nokero International Ltd's solar lights and phone chargers are among some of the solutions selected by Eagle Energy and the Navajo Nation groups to be introduced to the area.
Census data is not collected on household electrification, but Eagle Energy conservatively estimated that around 18,000 of 48,000 households on the Navajo Nation lack electricity. These are not residents who have decided, for cultural reasons, that they want to live off-grid; they are people who want proper heat and light but don't have it due to geographic isolation, high poverty levels, legal and political pressures.
Partnering with local groups and chapters was a key component of Eagle Energy's early research. Rather than come into the Nation with a full-formed plan, Eagle Energy brought an initial idea to the Nation and, from there, locals took up the ideas and formulated the best way to bring solar products (like Nokero) to their area. Local chapters are enthusiastic about the possibility of bringing renewable energy to their region, and universally supported the project ideas proposed by Eagle Energy.
For more information visit http://www.nokero.com.
###