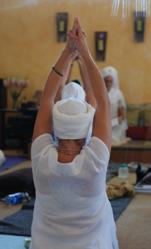 If you want to learn something, read about it. If you want to understand it, write about it. If you want to master it, teach it.
Clearwater, FL (PRWEB) August 02, 2011
World-renowned Kundalini Yoga Instructors, including Deva Kaur Khalsa and Kirin Kaur Khalsa, will be leading a ten month long Kundalini Yoga Teacher Training at Yoga Village in Clearwater, FL. This course, which will meet for one weekend per month between September of 2011 and June of 2012, is for men and women who want to become Kundalini Research Institute-Certified Instructors, as well as those who simply want to deepen their own personal practice of Kundalini Yoga.
"The opportunity for students to receive this level of yoga training here in Clearwater only comes every few years," says Yoga Village owner Jamie Luber. "In addition to teaching the basics of Kundalini Yoga, the trainers will lead students on a transformational path to self-discovery."
Each weekend of training will include a daily yoga class, meditation, specific instruction on the science and technology of Kundalini Yoga as taught by Yogi Bhajan, a vegetarian lunch on the deck, and the opportunity to connect with fellow Kundalini yoga practitioners from around the Southeast.
Deva Kaur Khalsa is a Lead Trainer in the Aquarian Teacher Training Program and a member of the Kundalini Research Institute's Teacher Training Executive Committee. She has practiced Kundalini Yoga for 35 years and owns a studio in Coral Springs, FL.
Kirin Kaur Khalsa has practiced Kundalini yoga since 1975 when she began her life-long passion to bring Enlightenment for the Real World through Kundalini Yoga. She works as a teacher trainer, healer and writer, and owns Yoga Sante Fe in New Mexico.
Yoga Village opened its doors in 2006 with a diverse offering of yoga classes, including Kundalini, Hot, Iyengar, Prenatal, Amrit and Anusara. Yoga Village also offers Oneness Blessings, workshops, special events and concerts, including the internationally-known singer Snatam Kaur Khalsa. Those new to yoga are encouraged to attend unlimited classes for 30 days with the "Explore the Village" pass. Experienced yoga students are welcome to join as a Village Member to enjoy unlimited classes, special pricing and other benefits.
# # #