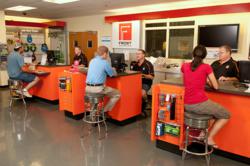 A Frost customer's experience is not only product-forward; their storied reputation was also built by providing customers with outstanding value added services and customer support.
Saint Louis, MO (PRWEB) August 09, 2011
Taking a visit to Frost makes the job of lighting St. Louis easy. With a history of 100 years in the Missouri bi-state region, Frost carries a complete inventory of commercial and industrial lighting fixtures and the largest supply of commercial lighting control in St. Louis. For customers looking for specific green lighting solutions, Frost also provides a wide variety of energy efficient lighting systems to meet anyone's needs. A Frost customer's experience is not only product-forward; their storied reputation was also built by providing outstanding value added services and customer support.
When visiting one of Frost's 6 convenient locations in Missouri and Illinois, customers will find a complete inventory of electrical lighting supplies for residential, industrial and commercial projects. Whether visitors need electronic ballasts, light fixtures or lighting controls, Frost carries a full range of professional interior and exterior luminary products for any application. With so many supplies on hand to choose from, selecting the right component for the job may appear overwhelming. Thankfully, Frost simplifies a supply trip by keeping a staff of LEED Accredited Experts and NAED Certified Electrical Professionals on hand to assist customers in choosing the right part for the job.
Many people are looking to save money on energy costs. Whether for home, office or warehouse facility, Frost can help by offering a range of CFL and LED lighting products which allow workers and building owners to operate more efficiently, saving them money. In addition, Frost has nationally certified, in-house lighting consultants who can evaluate their customer's lighting system to make the transition to an energy-efficient lighting system an easy one. If customers would like to see some products in action, they are encouraged to head down to Frost's St. Louis Lighting Headquarters in Maryland Heights, MO for a live demo of warehouse lighting and lighting control.
Many lighting supply stores in the St. Louis, Columbia, MO and bi-state area solely offer products. Frost distances itself from the pack by offering a wealth of useful services to its customers, in addition to its products. For example, Frost offers a dedicated project-quotations department to quickly turn around bids for on-site contractors seeking answers about electrical lighting supplies. Other services include lamp and lamp ballast recycling programs to effectively reduce lighting waste resulting from spot maintenance or retrofit projects, as well as expert-led product training classes covering a wide range of topics for lighting professionals and tradesmen.
Whatever the challenge or task, workers in the business of lighting St. Louis should visit Frost today to find everything they need for their next project. Regular Sales and Tool Center Hours for all Frost locations are 7am-5pm, Monday-Friday. Specializing in electrical supply, industrial automation, tools, safety and voice and data industries, Frost continues to meet the needs of hard-working folks across the bi-state area. Their knowledgeable staff is proud to serve customers from its headquarters in Maryland Heights, MO and its five full-service retail locations in the city of St. Louis, O'Fallon, MO, Columbia, MO, Collinsville, IL and Lebanon, IL.
For more information about Frost please contact Nick Arb by calling 314-743-0207 or visit http://www.frostelectric.com.
Frost. Providing unmatched supply, support and service to their customers for over 100 years.
###