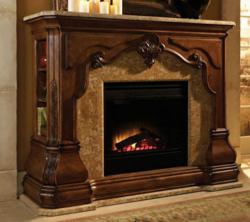 It's exciting to be able to offer such a wide variety of high quality products to people at attractive price points, on a global level.
(PRWEB) August 30, 2011
In an effort to help retail customers save money and give them access to a growing variety of low-maintenance, highly efficient, easy-install, beautiful and portable home fireplaces, InteriorMark, LLC announces the launch of its latest e-commerce venture, FireplaceSpot.com.
"Being the market leaders in all of the niche home furnishings websites we offer, and seeing a need for these types of products, this was simply a natural transition for us," said Peter Goldstein, Vice President of Sales for FireplaceSpot.com. "It's exciting to be able to offer such a wide variety of high quality products to people at attractive price points, on a global level."
The U.S. Department of Energy, Energy Information Administration, indicates that up to 47 percent of energy used in homes is used for space heating. Contemporary electric fireplaces provide a warm and cozy atmosphere with no combustion, no dirt or smoke, and 100 percent energy-efficient heating. According to the Hearth, Patio & Barbecue Association, electric fireplaces are best for smaller rooms in the home. Consumers save money by only heating the spaces they use most. Heating in this way is known as Zone Heating. Additionally, many electric fireplaces feature thermostats, allowing precise and efficient control over room temperature.
One of the primary benefits of electric fireplaces is their environmental friendliness, according to Furniture Today magazine. They typically require no permanent installation, can be moved from room to room, require no ventilation, produce no emissions, and run off of a standard household 120V outlet. They are considered 100 percent energy efficient because they require no combustion and all heat produced goes directly into the room. Many gel fireplaces burn an ethanol-based biofuel that burns cleanly and produces a subtle, local heat source.
The level of variety and quality of both modern design and traditional electric fireplaces at FireplaceSpot.com was not readily available to consumers in one place until now. With top brands including Pure Flame, Duraflame, Eagle, and Burley, there is a fireplace on FireplaceSpot.com for every type of décor and household. Electric fireplaces are available in a huge variety of styles, including decorative and traditional wooden mantels,fireplace inserts, media centers, and also sleek and contemporary wall mounted fireplaces and free standing units.
The menu and navigation system of FireplaceSpot.com is designed to help customers find the electric or gel fireplace they are looking for, whether that is a wall mounted unit for a living room or bedroom or a free-standing biofuel burning fireplace for the patio. Powerful menu systems are in place to help customers search by style, finish, brand or other key features. Providing this service and selection online provides access to these cost saving and environmental benefits to a whole new group of consumers.
About FireplaceSpot.com - FireplaceSpot.com is a division of InteriorMark, LLC, the market leading online retailer of home furnishings. The company offers a wide range of products and services designed to enhance and decorate a living room, covered patio, bedroom, office, bedroom or den with the latest designs from leading manufacturers. InteriorMark is a member of the National Home Furnishing Association and Western Home Furnishings Association, and is an A-rated member of the Better Business Bureau.
###