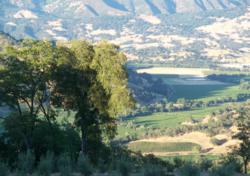 The path to success is to take massive, determined action. -Tony Robbins
San Francisco, CA (PRWEB) August 02, 2011
There is an important event happening now in the wine country of northern California, where a retreat, a sanctuary with organic agriculture promotes living sustainably while helping others through charity. This is a discussion not to be missed, with financial opportunities not to be overlooked. The $1.5M giveaway is happening in the wine country of Northern California as detailed on the website (http://www.OlivesAndViews.com) where a 125+ Acre Ranch is being legally-transferred "free and clear" by Chicago Title Company to the Grand Prize Recipient including all water, gem/mineral rights, and enough land to build six primary residences.
The HOW EASY CAN IT BE?℠ Essay Contest is putting their "resources where their heart is," conducting an event with financial opportunities for all Contest Participants while helping fund charity organizations supporting needs on the front lines of life. This is a dynamic opportunity in today's economy for those who are experiencing job loss, home loss or bankruptcy, seeking that one chance to start a new day in a new way. This is also opportunity-with-promise for every living sustainably advocate, investor, builder, country living wannabe, wine-food aficionado, and romantic-at-large.
So, what does this have to do with permaculture or living green? In addition to the 66 Cash Awards totaling $77,700.00, the Grand Prize in the HOW EASY CAN IT BE?℠ Letter-Essay Contest is a 125+Acre Ranch Retreat with a 10+ acre organic olive grove ready-to-produce cash crops. Olive aficionados will appreciate the Italian and Spanish cultivars of frantoio, pendolino, maurino, hojiblanca and leccino - all Italian and Spanish boutique cultivars known for pristine olive oils worldwide.
"We have an Entry Free Guarantee," states Aralyn Rose, the Contest Spokesperson, "all participants will receive a tax-deductible receipt as requested for the charities being funded by this event. And you can enter with family or with friends," Aralyn continues, "All details to enter are on our website at http://www.olivesandviews.com/."
In addition to the 125-plus acre grand prize, the grand prize also includes airfare for two to San Francisco with two-night accommodations and escort to the Ranch for a private Reception. HOW EASY CAN IT BE?℠
"It's easy. Simply write us your dream for living on this property. This is not a lottery or sweepstakes because it's directly interconnected to your letter-essay judged by Panelist making this contest unique." Organizers explain, "Charity organizations are supported. We're making a difference, differently, and offering unprecedented financial opportunities. Expand your dream's portfolio. Help others through your fiscal-heart. Receive a tax-deductible receipt for proceeds funding charity. You can also enter with family or enter with friends. It is a win-win-win."
According to the Contest spokesperson, groups wanting to share the $555 entry fee to enter this $1.5M Contest and collaborate on their Letter-Essay may do so. The winners will be notified by the independent Accounting Firm and results published on the Website at http://www.OlivesAndViews.com. According to Officials, the Contest is being conducted in accordance to all state and federal laws, overseen by Legal, and certified by an independent accounting firm.
###