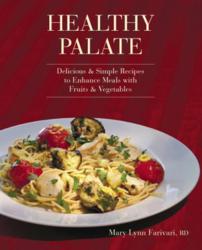 Bethesda, MD (PRWEB) August 09, 2011
Preparing delicious, healthy meals no longer has to be a struggle: dietitian Mary Lynn Farivari has published her new cookbook, "Healthy Palate, Delicious and Simple Recipes to Enhance Meals with Fruits and Vegetables." The book, available on amazon.com and healthypalatecookbook.com, includes time-saving recipes that make it easy to eat more fruits and vegetables. Cooking novices and pros alike will enjoy creating these flavorful dishes!
"Healthy Palate" is an invaluable addition to any kitchen and is suitable for all family members, especially those who want to lose weight or have diabetes, high cholesterol or high blood pressure. The recipes use a variety of fruits and vegetables in different forms - frozen, canned and fresh - and there are no long, expensive lists of exotic ingredients. In fact, the recipes are listed seasonally, ensuring ingredients are used at their peak flavors. A nutrient analysis and serving suggestion is provided for each recipe, and eight color pages beautifully illustrate 14 of the book's dishes.
The more than 165 recipes cover all the basics: breakfast, salads, soups, sandwiches, pizza, poultry, fish, vegetarian, red meat and desserts. The book also includes five brief chapters on healthy living, with titles like, "Choosing the Best Foods," "Eating Less Salt" and "The Joys of Seasonal Cooking."
"Healthy Palate" is available for $19.95 on amazon.com and http://healthypalatecookbook.com. The Healthy Palate website also has sample recipes and photographs, so be sure to visit!
Reprints are encouraged for all media. Author appearances and interviews are provided upon request.
"Healthy Palate, Delicious and Simple Recipes to Enhance Meals with Fruits and Vegetables" by Mary Lynn Farivari
73/4 x 91/4, 228 pages
ISBN 978-0-615-40945-0
###