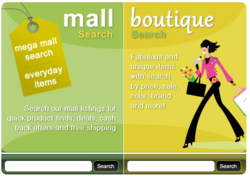 We know moms spend hours searching and shopping online, so we made it easy to find stylish and modern items for every mom type.
Los Angeles, CA (PRWEB) August 01, 2011
Dotcoms For Moms™ (DFM), a lifestyle site for today's contemporary mom, has launched a one-stop shopping section giving online moms several innovative ways to find the best on the web in everything for home and family. Designed to help moms save time while shopping online, DFM provides three simple ways to shop in a broad range of categories including color-based shopping, fashion, beauty, home and more.
The Fab Finder allows users to search through the web to find exactly what they are looking for at the best price. DFM's Fab Finder showcases a variety of retailers across the web incorporating two approaches to comparison shopping – Mall Search and Boutique Search.
Mall Search lists quick product finds relating to the search from online retailers, highlighting deals, cash back offers and free shipping in a more traditional online shopping experience. Boutique Search pulls from top brands and designers, allowing moms to refine their search based on what they are looking for in a visual-based shopping experience. The items have extensive filters for retailer (store), price, brand, color and size.
"The Fab Finder boutique features less text and more visuals, making it easier for women to shop for the styles they want in way we are used to shopping by looking first and reading later," said Rita Mauceri, creator of Dotcoms For Moms™. "I wanted moms, like myself, to effortlessly find products that fit our tastes and budgets without having to spend copious amounts of time on several sites searching for them."
Another way to browse products is to shop Dotcoms For Moms', curated picks, handpicked products from hundreds of retailers by Mauceri herself. Shop Our Picks contains items for women, the home and kids and color shops to find items based color schemes. Similar to editorial spreads, Shop Our Picks offer women a fun and visual experience in online shopping. The items are refreshed every 30 days to keep up with changing trends and to offer new items for the season. In the works is a back to school supplies shop launching in early August.
Hoping to inspire modern moms in their shopping endeavors, DFM editors put together Get the Look style finder. Moms can easily browse through expertly edited looks to find the perfect stylish outfits for themselves, their families and ideas for the home.
The looks are changed every season and enables click through to purchase simplifying the shopping process. The mom style finder features recommendations in women's fashions, men's fashions, kids fashions, home décor and beauty, and lists the top 20 sites for each category.
About Dotcoms For Moms
Inspired by her own busy life as a mother to three children (twin boys followed a year later by a girl,) award-winning television producer, author and lifestyle expert Rita Mauceri launched Dotcoms For Moms™ in January 2011 to provide moms a solution to the challenge they face online: keeping track of the gems and weeding out all the junk found in a typical online search. With the launch of Dotcoms For Moms™, Mauceri draws on her more than 15 years of experience in entertainment and women's lifestyle to create the ultimate online destination for moms of all ages with children of all ages. For more information on Dotcoms For Moms, please visit http://www.dotcomsformoms.com
A veteran television producer of top-rated entertainment and lifestyle programming at E!, Discovery, Travel Channel, TLC, and HGTV, Mauceri is a published author of two style books, "Frumpy to Foxy in 15 minutes Flat" and "Curves Rules and Flat is Fabulous: Sexy, Stylish Looks for Every Figure," and is best known online for her highly-read weekly entertaining and style columns on Yahoo!, Foxy Festivities and The Foxy Life.
###