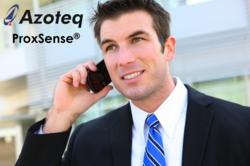 Austin, TX (PRWEB) August 01, 2011
Azoteq, the world leader in proximity and touch solutions, today announced solutions for cell phone and tablet computer manufactures to meet the FCC SAR regulations. The Azoteq ProxSense® solution enables designers to adjust the RF power when a phone is held close to the head versus operated hands free. In addition, the Azoteq solution can also replace the optical on-ear detection at lower cost and lower power consumption.
Working closely with federal health and safety agencies, such as the Food and Drug Administration (FDA), the FCC has adopted limits for safe exposure to radiofrequency (RF) energy. These limits are given in terms of a unit referred to as the Specific Absorption Rate (SAR), which is a measure of the amount of radio frequency energy absorbed by the body when using a mobile phone. The FCC requires cell phone and tablet manufacturers to ensure that their products comply with these objective limits for safe exposure.
"Azoteq's ProxSense® provides the only capacitive sensing solution that is sensitive enough for proximity detection and that can function close to a cell phone's RF antenna," said Dr. Frederick Bruwer, CEO and President of Azoteq.
"Several leading tablet manufacturers have adopted ProxSense® to meet FCC regulations," said Kobus Marneweck, VP of Marketing. "ProxSense® is also being evaluated by cell phone manufacturers," he added, "overcoming all of the traditional limitations of optical sensors."
Devices like the IQS128 are aimed at proximity handheld detection in tablet PC's, on-ear detection for mobile phones and other proximity applications. The capacitive technology holds advantages of very low power consumption, omnidirectional sensing and does not require an aperture lens. System integration is very simple compared to optical solutions.
The IQS128 is ready for volume shipment and the lower power IQS128L will be released Q3, 2011. The IQS128 is available in TSOT23-6 and QFN (2x3)-8 packages.
Applications:

Handheld detection for Tablet PC's
On-ear detection for mobile phones
Occupancy sensors
Human Interface Devices
Proximity Detection for Backlighting
Touch and proximity
About Azoteq (Pty) Ltd
Azoteq (Pty) Ltd (http://www.azoteq.com) is the world leader in proxmity and touch solutions for switches, sliders, scroll wheels and touch screens in consumer and industrial applications. Azoteq (Pty) Ltd has design and manufacturing centers in South Afica and China. Azoteq (Pty) Ltd has sales offices and distributors in South Africa, Asia, Europe and the USA.
IQ Switch®, ProxSense®, LightSenseTM, AirButton®, DYCALTM are trademarks of Azoteq (Pty) Ltd.
Editorial Contact & Interviews:
Kobus Marneweck
+1-512-538-1995
kobusm(at)azoteq(dot)com
http://www.azoteq.com
High-resolution images
http://www.flickr.com/photos/62497490@N03/5984702193/in/photostream
###