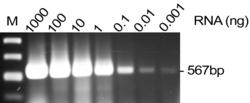 Solon, Ohio (PRWEB) August 22, 2011
Efficiency, quality and safety are fundamental to AMRESCO's product design, because demand for products that simplify hands-on time at the bench while reducing hazardous chemical exposure continues to grow. AMRESCO's new Ready One-Step RT-PCR Kit achieves all three requirements by uniquely mixing the convenience of a one-step RT-PCR kit with loading buffer and a safe DNA visualization dye.
The Ready One-Step RT-PCR Kit includes Ready One-Step Reverse Transcriptase, which consists of M-MLV and a proprietary buffer that delivers robust cDNA synthesis from rare and abundant transcripts. The kit also contains Ready One-Step RT-PCR Mix, 2X comprised of reaction buffer, AMRESCO's Extender™ DNA Polymerase Blend, dNTPs, an electrophoresis tracking dye, and a non-mutagenic EZ-Vision® visualization dye. The combined reverse transcription and PCR reaction is prepared in a single tube using as little as 1 pg of RNA template and user-supplied primers. The optimized mixes in the kit enable fast and easy setup with minimal pipetting to ensure better consistency and less cross-contamination between samples. Upon completion of amplification, the inclusion of both loading buffer and AMRESCO's popular EZ-Vision® DNA dye in the reaction mix allows for direct loading of samples onto an agarose gel. The EZ-Vision® dye works with standard UV illumination to immediately reveal amplification products after electrophoresis without additional post-staining and destaining steps.
The Ready One-Step RT-PCR kit provides a convenient, single-tube reaction that does not require the addition of any reagent after initial setup. All the necessary components for reverse transcription, PCR amplification, gel loading and visualization are combined quickly and easily in the first step using the two-component kit. Ready One-Step RT-PCR offers reliable, sensitive detection of amplification products using the same non-toxic and non-mutagenic dye that benefits customers using AMRESCO's EZ-Vision® DNA family of products. After completion of the RT-PCR experiment, the gel may be safely discarded in regular trash bins. The Ready One-Step RT-PCR Kit is ideal for labs seeking a safe and reliable RNA detection kit.
For more information about the Ready One-Step RT-PCR Kit or any other AMRESCO products, visit http://www.amresco-inc.com or call 1-800-829-2805.
AMRESCO is a manufacturer and supplier of high quality biochemicals and reagents for molecular biology, life sciences, proteomics, histology and clinical areas of research. The company is ISO certified and has QSR compliant facilities to ensure customers receive the highest quality products.
###